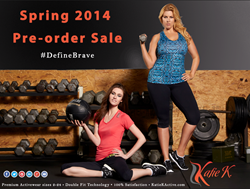 Philadelphia, PA (PRWEB) February 26, 2014
Launching today is a new "Inclusive" Lifestyle Brand. Katie K Active is bravely picking up where others are leaving off, as they launch their BRAVE NEW ERA CAMPAIGN. Katie K Active is a premium activewear line made with exceptional quality fabrics, a sleek high performance construction with Double Fit Technology (DFT) and features fashion forward products designed for the active lifestyle. Katie K Active Brand's Promise is to be "inclusive" and has taken action by offering their entire line in sizes 2-24 while committing to a 100% Confidence guarantee.
Katie K Active is driven by their mission "to be a fun and feminine brand which ignites the desire within women to live an active, healthy and exceptional life."
This Brand has risen to the occasion and conquered the controversial topic of activewear lines catering to only the smaller sized woman. The BRAVE NEW ERA CAMPAIGN was created with a 100% Confidence guarantee to help pave the way to create change by embracing the issues of body esteem. Katie K Active is proud to become the thought leader in the activewear marketplace by demonstrating "inclusivity" for all shapes and sizes.
#DefineBrave is in sync with Katie K Active's corporate vision which is "To shape a Confident New Era by enriching people's hearts, minds, and bodies. This will help women feel good from the inside out. The goal is to bring the "active" out in every woman.
Katie K' Active's pricing structure is in line with their exceptional design, quality, innovative fit and comfortability. They range from $14.00 for a headband accessories to $88.00 for their premium Signature Jacket.
There are presently forty (40) skus which may be ordered online as well as found in luxury spas such as Canyon Ranch Resorts and premium boutiques as well as department stores. The Preorder Sale commences today, February 26, 2014.
The Katie K Active's Team is creatively planning this years' events to enrich and inspire the lives of their Katie K Fans and can be found on their website calendar at http://www.KatieKactive.com.
Their Corporate Values align with high standards of excellence, equality, inclusiveness, integrity, confidence, fun, positivity, inspiring a healthy lifestyle.
They plan to focus their Social Responsibility on community.
About the Founder: Katie Kozloff: As a fitness trainer, Kozloff worked with women of all sizes heard first hand their opinions and views on what was lacking in the active-wear industry. After a few years of research, Kozloff was inspired to create activewear that blended high performance, superb fit and fashion — workout gear that looks and feels amazing on women of all sizes. "I was excited to be able to jump in on the cutting edge as trends were changing and make my impact in the activewear industry. I wanted to create a brand that fits and flatters all of my friends in all of their sizes, without compromising the performance features that today's women have grown to expect. Its great to create a line that is fashionable and street smart; allowing women to run from yoga, to meeting friends, to getting errands done all while feeling confident and put together."
For more information, visit KatieKActive.com.
For media inquiries call, Next Century Global 856-874-4444