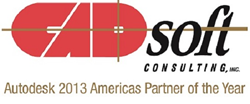 Tempe, AZ (PRWEB) February 26, 2014
CADsoft Consulting Inc., a premier provider of technical design and engineering solutions, and Autodesk 2013 Americas Partner of the Year, today announced the promotion of two members of the CADsoft Consulting sales team; Steve Rush and James Foster.
Steve Rush has been promoted to Engineering Natural Resources Industry (ENI) Team Lead & Strategic Accounts Manager. Steve joined CADsoft Consulting in 2007 and consistently demonstrated a deep understanding of customers design workflow, business requirements, and what is needed to enhance or improve the customer's entire design ecosystem.
James Foster has been promoted to Architecture Engineering Construction (AEC) and Government Team Lead. James joined CADsoft Consulting in 2012 and quickly demonstrated his knowledge of the commercial and government architecture, engineering, and infrastructure market segments. His exceptional understanding of the AEC industry is demonstrated by CADsoft customers who have come to rely on him for critical decisions.
Both Steve and James will be responsible for the development and direction of their sales teams. Their leadership is critical to the success of our customer's businesses. "The design industry has many choices, many strategies and processes," stated Laurie Malone, vice president of sales for CADsoft Consulting. "The growing number of products and technologies requires strong sales leadership that can assist our clients and help them decide on the best solutions and directions to explore."
About CADsoft Consulting
CADsoft Consulting's national team of consultants helps clients pursue innovative concepts for 3D digital design, Building Information Modeling (BIM), Project Lifecycle Management (PLM), Leadership in Energy and Environmental Design (LEED), and 3D design visualization. With over 23 years of industry, business, and technical expertise, CADsoft Consulting's unique services has been sought after by an impressive list of architectural firms, engineering companies, manufacturing, government agencies, and academic institutions. CADsoft Consulting is an Autodesk Gold Partner for architecture, engineering, construction, civil engineering, geospatial, utilities, and academic solutions. In addition, CADsoft is an Autodesk Authorized Training (ATC) and Certification Center. For more information, please visit our website: http://www.cadsoft-consult.com.
Autodesk and ATC are registered trademarks or trademarks of Autodesk, Inc., and/or its subsidiaries and/or affiliates in the USA and/or other countries.