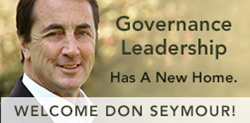 "Through the addition of Don Seymour, we are excited to grow our firm with new advisors who bring a wealth of expertise to share with our clients." - Bob Erra, President & CEO of INTEGRATED Healthcare Strategies
Kansas City, Mo. (PRWEB) February 25, 2014
INTEGRATED Healthcare Strategies is excited to announce the addition of Don Seymour, rounding out INTEGRATED's offering of governance services. Don Seymour and his firm, Don Seymour and Associates were hand-selected to join and enhance INTEGRATED's governance and strategy services.
"Through the addition of Don Seymour, we are excited to grow our firm with new advisors who bring a wealth of expertise to share with our clients," Bob Erra, President & CEO of INTEGRATED Healthcare Strategies, said. "Mr. Seymour offers a unique perspective—and he will grow the governance and strategy practice and provide the up-to-date skill sets necessary to understand and address client needs."
Mr. Seymour will be serving as the executive vice president and practice leader of INTEGRATED's governance and strategy practice. He brings more than 20 years of experience in the healthcare industry. Throughout his career, he has provided insight on senior leadership issues to hospitals and healthcare systems throughout the United States. His primary focus has been on strategic planning, governance design and development, and governance/hospital alignment.
The addition of Mr. Seymour expands the spectrum of the governance and strategy practice services offered by INTEGRATED Healthcare Strategies to its clients, including:

Rightsizing: to improve performance
Streamlining: based on the principle, "form follows function"
Clarifying: responsibilities between and among boards and committees; relationships between the board and management.
Specifying: decision-making criteria between the board and the CEO
Redefining: committee changes and the relationship of each committee to the full board
Restructuring: board meetings to improve communication, increase effectiveness, and assist the board in focusing its energy on the "right" issues
Mr. Seymour is an advisor to The Governance Institute and a highly regarded presenter, speaker, and facilitator. In addition to being a Governance Institute faculty member, he is a frequent presenter to the American College of Healthcare Executives' (ACHE) annual congress on administration and has been the lead faculty for ACHE seminars such as: E-Health Strategy, Service Line Planning, and Strategic Repositioning: Managing the Transition to Being a Great Hospital. He has also made presentations to the American Hospital Association (AHA), Voluntary Hospitals of America, Fortune 50 Companies, and a variety of other national, state, and regional groups.
Mr. Seymour has served as executive editor for Futurescan (TM) (AHA's annual healthcare trends publication) since 2004. His articles have been published in BoardRoom Press, E-briefings, Hospitals & Health Networks, Trustee, Healthcare Executive, Spectrum and other leading journals.
"As the healthcare provider world is changing, approaches to governance are evolving as well, especially as hospitals transition to effective system governance," Seymour, said. "I'm looking forward to working with INTEGRATED Healthcare Strategies and assisting client boards in improving their performance."
###
About INTEGRATED Healthcare Strategies
For more than 30 years, INTEGRATED Healthcare Strategies has provided consultative services and people-based solutions to clients across the healthcare spectrum, including community and children's hospitals, academic medical centers, health networks, clinics, and assisted-care providers. Our expert consultants and nationally recognized thought-leaders help organizations achieve their business goals by ensuring top talent is attracted, retained, and engaged, while measuring and maximizing human and organizational performance. With tailored solutions that extend well beyond single services, INTEGRATED offers the knowledge, guidance, insights, and alignment that organizations need to not only survive the rapidly changing healthcare environment, but to succeed in it. Exclusive to Healthcare, Dedicated to PeopleSM. http://www.integratedhealthcarestrategies.com/