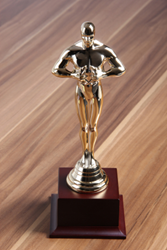 In the Best Director category it looks like a too-close-to-call match between Martin Scorsese and Alfonso Cuarón.
Langhorne, PA (PRWEB) February 26, 2014
When film critics "gaze into their crystal ball" to come up with Oscar forecasts, a significant level of consensus emerges. When psychics use their gifts of insight and intuition, a similar melding-of-the-minds occurs. But is there overlap between the two groups of expert predictors?
In a recent survey at the popular psychic service provider, Hollywood Psychics, twelve of the 33 professional psychics surveyed predicted a Best Picture win for "12 Years a Slave," making it the psychics' clear frontrunner, while a whopping 22 of the 28 critics whose Oscar lists are compiled on the website GoldDerby.com voted for the very same film.
In the Best Actor category, the film critics overwhelmingly (24 of 28) put Matthew McConaughey in the number one spot, and the psychics agreed. Less clear-cut for the psychics was the choice for Best Actress, where there was a near even split for potential statuette winner between Amy Adams and Sandra Bullock. The film critics, in contrast, predicted with near unanimity (just one dissenting) that Cate Blanchett would take home the prize.
Perhaps reflecting the very strong contenders in the Best Director category this year, the psychic survey put both Alfonso Cuarón and Martin Sorsese at the top of the heap, in a dead heat, whereas the critics unanimously predicted a win for Cuarón.
If there was an Oscar for Oscar predictions, who would win? We'll find out on March 2nd. It just might be an even psychic-critic split.
****
About Hollywood Psychics:
Hollywood Psychics is an established provider of psychic readings by phone and online chat, appealing to a young professional demographic. Hollywood Psychics experts specialize in astrology, horoscopes, numerology, tarot cards, clairvoyant readings, and many other psychic disciplines. Hollywood Psychics believes in its community of authentic psychics and stands behind the authentic psychic readings they deliver to clients. Visit them online at http://www.hollywoodpsychics.com.
For more information, contact:
Maryanne Fiedler, Marketing Director
maryanne(at)hollywoodpsychics(dot)com
215-953-8568