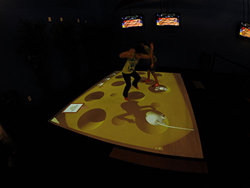 The children are excited to play while parents are busy with transactions.
Armonk, NY (PRWEB) February 27, 2014
The Sky Zone franchise was the first to bring all-trampoline walled playing courts to the public. The owner of the Riverside, Covina and Van Nuys, California locations has chosen to install EyePlay systems at his three facilities. More information about the Sky Zone indoor trampoline park can be found at http://www.skyzone.com.
The first Sky Zone center opened in Las Vegas, in 2004. At the time, it was known as SkyMania Fun Center. Now there are 30 parks in North America, and the company is listed as one o the top 500 franchises. People can literally bounce off the walls at Sky Zone, and it is designed to appeal to all ages. The company offers "open jump" and welcome walk-ins. There are also birthday parties and group rentals, before and after school programs as well as in-school programs focusing on fitness and fun. For adults, Sky Zone provides a variety of activities including SkyRobics fitness classes.
The EyePlay systems were installed in open areas at Sky Zone that offer easy access for children. They are conveniently located near the concession area, as the management wanted an additional attraction for people to enjoy while they were at the concessions. Ultimately, they are looking to target ages 2 and up.
Owner David Ruiz believed that the EyePlay would be an ideal fit for smaller children who may be too tired to keep jumping on trampolines, but still wants to have fun. He also wanted his Riverside, Covina and Van Nuys, California franchises to stand out from the competition by offering a variety of activities.
So far the strategy is working quite well. David Ruiz explains, "The children are excited to play while parents are busy with transactions. They also will take a break from trampoline jumping and play on the EyePlay."
EyePlay offers a virtual playground where children can activate motion graphics and sounds with their entire bodies. Since there are no pieces to clean or touch, it also provides a germ-free environment. Companies find that there is little in the way of cleanup and maintenance when they choose to install an EyePlay system.
Ruiz added, "EyePlay is a great interactive game that fits into our theme of fitness and fun."
About EyeClick:
EyeClick specializes in creating inventive products that transform designated spaces into magical experiences. The company's EyePlay, EyeStep and EyeWall products open up a world of possibilities to engage audiences in out-of-home locations. EyeClick has helped leading brands, from Burger King and NASA to Namco and GattiTown, transform their floors, walls and window areas into spectacular interactive displays that leave a long-lasting impression on visitors. EyeClick gives designers, hospitals, event planners, retailers, media companies, family entertainment centers, restaurants, and other organizations the ability to showcase rich interactive digital content in public spaces. More information about EyeClick can be found at http://www.eyeplay.info.
# # #