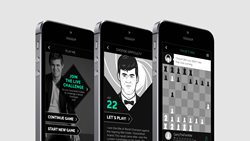 'The app is simple, fun and lets you practice anywhere and anytime,' says Magnus Carlsen.
Oslo, Norway (PRWEB UK) 25 February 2014
With the app, which is free to download, the chess enthusiasts can play against a "chess engine." It is designed to "think and play" like Magnus himself. The app is made so that you can play against Magnus at all ages from 5 to 23 years old. The app also offers training videos where Magnus explains how he thinks when he plays chess. This makes it possible for everybody to learn to play chess from Magnus.
The Play Magnus app can be downloaded from AppStore from 25 February 2014: http://appstore.com/playmagnus.
"I would like to do what I can to inspire and teach more people around the world to play chess. Chess helps us train our minds to solve problems in new ways, increases concentration and improves memory. To become a better chess player you need to practice. The app is simple, fun and lets you practice anywhere and anytime," says Magnus.
"After experiencing so much support from around the world, it is great to be able to inspire others to play chess," says Magnus.
"We saw how many people wanted to meet and play against Magnus, and found a way that everybody, regardless of level, can play chess against Magnus. From Magnus who is five-years old and only knows the moves, and all the years up to Magnus who is 23-years old, who we know is more challenging to beat. We then brought in Tord Romstad to develop the Play Magnus chess engine, and Making Waves to design and develop the app.
"It has been a great cooperation with very talented people. The app is now available and we have a long term view for Play Magnus," says Anders Brandt, Chairman at Play Magnus AS.
"Magnus will annually host a 'Play Magnus Challenge' for the Play Magnus users. This will give app users the chance to play against him at a secret location in early 2015. The winners that get to participate at the 'Play Magnus Challenge' will be selected from four different categories: beginner, intermediate, advanced and expert," says Kate Murphy, Managing Director at Play Magnus AS.
For more information:

For interviews, questions or more information:
Kate Murphy
+47 47910788
kate(at)playmagnus(dot)com
Information to the editors:
About Magnus Carlsen
Magnus Carlsen is the reigning World Chess Champion and the number one ranked player in the world. http://www.magnuscarlsen.com
About Play Magnus
Play Magnus, the official creator of Magnus Carlsen branded products, has a mission to spread chess to more people around the world. http://www.playmagnus.com
About Making Waves
Making Waves is a Norwegian design and technology consultancy. They developed the Play Magnus app http://www.makingwaves.com.