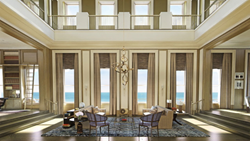 Chicago, IL (PRWEB) February 25, 2014
Homebuyers typically are attracted to residences they view as move-in ready or close to it. For Chicago's wealthiest and most discriminating buyers, however, it is unfinished space that can sparkle most brightly, according to an analysis of the luxury residential market by RE/MAX.
Penthouse condos crowning some of the city's most desirable addresses frequently are offered initially as unfinished space in both new buildings and older office buildings that are converted into residential condominiums. Nonetheless, they are a relatively rare commodity.
At this time, only two raw-space penthouse units are listed for sale in Chicago's downtown area. One is a duplex on the 26th and 27th floors of the landmark Metropolitan Tower at 310 S. Michigan Ave. It is priced at $3,499,000, and offers 7,600 square feet of space. The second, located in the new Ritz-Carlton Residences at 118 E. Erie St. is a single-level unit priced at $10.85 million that has a 6,000 square-foot interior, plus two outdoor large terraces. Another competitive unit, offering 12,500 square feet of unfinished space, is at 2550 N. Lakeview Ave., in the Lincoln Park neighborhood and is listed at $16,133,000.
Lissa Weinstein of RE/MAX Premier Properties, the listing broker for the duplex penthouse at Metropolitan Tower, explained why penthouse units offering raw space are such coveted luxury properties.
"The buyers of these units don't want to live with the layout, finishes and even the mechanical systems that a developer might select," noted Weinstein. "These are people who wear custom-tailored clothing, so naturally they like the idea of a home created to fit their personal style and preferences precisely."
Weinstein estimates that buyers of a raw-space condo in downtown Chicago, whether or not it is a penthouse, will spend $400 to $1,000 per square foot to finish the space, even after spending from $300 to well over $1,000 per square foot to purchase the unit.
From 2011 through 2013 the average purchase price for downtown condos offering raw space has been $560 per square foot. However, the actual price can vary dramatically. The penthouse currently listed for sale at the Ritz-Carlton, for example, is priced at about $1,750 per square foot. Two penthouse units at 11 E. Walton Pl. that had drywall in place but were otherwise unfinished sold for an average of $933 per square foot in 2012.
The wide variation in the cost of raw space is a function of its location and the amenities and appeal of the building in which it is located.
The Ritz-Carlton is in an amenity-rich building that is more like a hotel than a traditional condominium. In contrast, Weinstein said that the penthouse at Metropolitan Tower appeals to those who want to be close to downtown cultural offerings, including the symphony, Art Institute and theaters and value the spectacular views of the lake, park and downtown skyline that Metropolitan Tower provides.
Her listing is also unusual in that a buyer can purchase either both levels or just one. The 26th floor portion, measuring 3,500 square feet, is listed at $2.4 million. The 4,405-square-foot unit on the 27th floor sells separately for $1.2 million. The upper floor has a lower price because of its 10-foot ceilings, while the lower floor has 18-foot ceilings. More details are on her website, http://www.lissaweinstein.com/listings.
"All these luxury buildings appeal to wealthy, discriminating buyers, but they are buyers with substantially different priorities," Weinstein said. "In this price range, buyers want a very specific result in terms of location, building amenities and the home itself, which is why raw space with its potential for customization is so desirable."
RE/MAX has been the leader in the northern Illinois real estate market since 1989. The RE/MAX Northern Illinois network, with headquarters in Elgin, Ill., consists of 2,000 sales associates and 100 individually owned and operated RE/MAX offices that provide a full range of residential and commercial brokerage services. Its http://www.illinoisproperty.com provides comprehensive information about the network and about residential and commercial property for sale in the region. The northern Illinois network is part of RE/MAX, LLC, a global real estate organization with 90,000+ sales associates in 90+ nations.