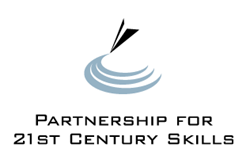 "Dr. Helen Soulé will provide proven and sustained leadership as P21 continues to lead 21st century readiness efforts in U.S. and abroad." - Stephan Turnipseed, P21 Chair.
Washington, DC (PRWEB) February 27, 2014
P21, the national leader advocating for 21st century readiness for all students, announces Dr. Helen Soulé as the organization's full-time executive director. Dr. Steven Paine is stepping down as P21 president to support the organization on special projects in the role of senior advisor. Dr. Soulé served P21 in several leadership positions over the last 5 years, including interim executive director and director of P21's state outreach efforts.
"I am excited for Helen's continued leadership and remain committed to assisting P21 in fulfilling its mission," said Dr. Paine. "Thanks to P21's momentum, great staff, and the right strategy, P21 is poised to move to the next level and will continue to do great things."
"Dr. Soulé will provide proven and sustained leadership as P21 continues to lead 21st century readiness efforts in U.S. and abroad," said Stephan Turnipseed, P21 Chair and President Emeritus and Executive Director of Strategic Partnerships, LEGO Education.
P21's members comprise over 700,000 employees of the global workforce, and gaining momentum with the addition of international, early learning and digital learning members. P21's state network has grown to 19, with the addition of Oklahoma and California, representing over 20 million K-12 students, or 41% of the U.S. student population.
P21's 21st Century Citizenship and Patterns of Innovation exemplar initiatives are building successful models of 21st century learning. P21 will be working in the coming year to highlight and drive research and policy that shows the impact 21st century learning has on student achievement.
"Dr. Paine will provide invaluable strategic guidance to P21, and I look forward to continuing our work together as we engage P21 members, states and partners in bringing 21st century learning to all students," said Dr. Soulé.
P21 is proud to continue its collaborative work to engage leaders in education, business, and policy, as well as the 19 partnership states to help prepare students to lead and succeed in 21st century work, life, and citizenship.
About P21: P21 is a national organization that advocates for 21st century readiness for every student. As the United States continues to compete in a global economy that demands innovation, P21 and its members provide tools and resources to help the U.S. education system keep up by fusing the 3Rs and 4Cs (critical thinking and problem solving, communication, collaboration and creativity and innovation). While leading districts and schools are already doing this, P21 advocates for local, state and federal policies that support this approach for every school.
P21 Members: Apple Inc., Bahcesehir K-12 Schools, Cable in the Classroom, The College Board, Common Sense Media, Crayola, Destination Imagination, EdLeader21, EF Education, Education Networks of America, Ford Motor Company Fund, Gale Cengage Learning, Goddard Systems Inc., Intel Corporation, JP – Inspiring Knowledge, Learning.com, LEGO Education, National Board for Professional Teaching Standards, National Education Association, PBS, Pearson Foundation, People to People Ambassador Programs, Project Management Institute Educational Foundation, U.S. Fund for UNICEF, VIF International Education, and The Walt Disney Company.
P21 Leadership States: Arizona, California, Illinois, Iowa, Kansas, Kentucky, Louisiana, Maine, Massachusetts, Nevada, New Jersey, North Carolina, Ohio, Oklahoma, South Carolina, South Dakota, Vermont, Wisconsin and West Virginia.