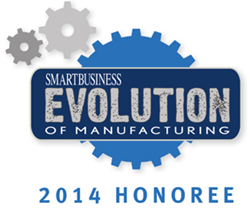 This class of honorees represents what's going right with manufacturing.
Akron, OH (PRWEB) March 11, 2014
Air Enterprises is pleased to announce the acceptance of the 2014 Evolution of Manufacturing award, presented at the Cuyahoga Community College Advanced Technology Training Center by SmartBusiness.
The Smart Business Evolution of Manufacturing awards recognize manufacturers that are evolving to adapt in a global economy. "This class of honorees represents what's going right with manufacturing in Northeast Ohio," says Dustin S. Klein, publisher of Smart Business. "These organizations are creating jobs, expanding operations, and finding better ways to engage with customers, vendors and stakeholders."
Air Enterprises continues to enter new and expanding markets with proprietary technologies such as KyotoCooling®, a waterless, energy efficient solution for cooling data centers using outside air and energy recovery wheels; SiteBilt®, a proprietary design and installation process without physical or location limitations to meet air handling needs in any building, anywhere; Thermowheel®, the most efficient and robust HVAC energy saving device in the world; Thermodry™, highly effective heat and energy recovery for industrial laundry applications.
As Air Enterprises enters new markets its focus remains on reinforcing its reputation for market-leading quality and energy efficient air handling solutions.
About Air Enterprises
Air Enterprises designs, engineers and manufactures custom air handling solutions to meet any system configuration or space requirement. The Company has special expertise across many industries, including automotive, data centers, healthcare, industrial, pharmaceutical, and educational markets. With 50 years of application experience and a focus on energy savings and sustainability, Air Enterprises partners with the client to deliver the most efficient solution at the lowest total cost.
For more information visit http://www.airenterprises.com/award-winning or http://www.sbnonline.com/cleveland-editions/5-cleveland-editions/27851-2014-evolution-of-manufacturing-winners#.UwyfavldWxV.