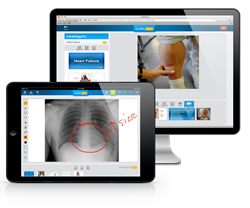 Portland, Oregon (PRWEB) February 25, 2014
WelVU, a cloud based technology platform powering patient engagement, has been selected as a semi-finalist in a national patient education initiative launched by Box, Dignity Health, and Social+Capital Partners. WelVU's selection in the top 5 out of over 150 companies earns them the opportunity for advancement into final stages with judging by notable technology leaders Aaron Levie, CEO of Box; Aneesh Chopra, former CTO of the White House; Richard Roth, VP of Strategic Innovation at Dignity Health; and Ted Maidenberg, General Partner at The Social+Capital Partnership.
The Box + Dignity Health Patient Education App Challenge was launched at the global Health 2.0 Conference in October. The aim of the challenge is to find innovative solutions to help patients better consume and interact with information they receive about a diagnosis, disease, or procedure. The leadership of the challenge uniquely combines the experience of Box, a cloud-based content and collaboration management platform, the nation's fifth largest hospital system – Dignity Health, and a Silicon Valley-based venture capital firm, The Social+Capital Partnership. The winner of the challenge will receive a $100,000 investment, mentorship, and the possibility to pilot the technology with Dignity Health.
"This is an extraordinary opportunity for WelVU and we are honored to be included among the top 5 semi-finalists," says Mark Friess, founder and CEO of WelVU. "The challenge represents the vision of Dignity Health for the future of personalized education at the point of care to achieve meaningful patient engagement. Combining that vision with the strength of the Box platform gives us a great opportunity to showcase our passion for empowering patients with the right information at the right time from trusted providers so they can be healthier and happier."
The practical, clinically relevant use-cases represented in the app challenge allowed WelVU to demonstrate its strength in patient engagement. WelVU has the first patient engagement platform to use medical illustrations, a patient's personal medical data, and a provider's verbal conversation to create a multi-media care video. This educational reference video is created on-demand in the exam room, the hospital room, or telemedicine "room" with the patient. Providers can also create and store prepared videos that they or their staff can prescribe to patients, thereby empowering those patients with standardized, customized education while maximizing valuable staff time. Prescribed education becomes a critical reference tool for the patient to view, review, and share the important conversations about their health. Best of all, it requires nothing more than what providers already do today – educate and care for patients.
WelVU is showcasing their patient engagement innovations at HIMSS 2014 Booth 7745 this week. Mark Friess will be addressing the Mobile Health Knowledge Center audience today, Tuesday February. 25th at 4pm - Hall E, area #7745.
About WelVU
WelVU is an innovation leader in patient engagement technology. Its cloud-based patient engagement software platform gives healthcare providers digital tools to create personalized educational content aimed to improve patient satisfaction, outcomes, and costs. WelVU is the first patient engagement platform to use medical illustrations, a patient's personal medical data, and a provider's verbal conversation to create a multimedia care videos. The platform includes three powerful applications for ambulatory, acute care, and care management organizations. The unique visualization approach created by WelVU enables culturally sensitive and native language specific education to be delivered to patients so that they are equipped to make better health decisions. Learn more about WelVU at http://www.WELVU.com. Download the free WelVU app on the App Store.