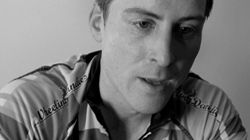 The LYNX trainer unit is the smoothest trainer you've ever ridden.
Toronto, Canada (PRWEB) February 27, 2014
VeloReality President and CEO Gary Bauer joined Jeff 'Kirch" Kirchner in his Brampton basement to ride Belgium's famous Flanders course, while outside temperatures stood at record lows. Kirchner -- a founder of the Wheeling Dandies Cycling Club and winner of the 2013 RealDeal CX Race -- had just completed his club's in depth review of the Lynx VR Trainer.
"Indoor trainers are an off-season must for the serious riders facing Canadian winters because they help maintain competitive fitness levels," explained Kirch. "But most indoor bike trainers tend to be high in the noise and boredom departments, and short on real riding feel. Not so with the Lynx."
The Wheeling Dandies are a high-profile competitive cycling club based in Ontario, Canada with riders who are active professionals with a passion for the sport of cycling, friendly competition and a general 'need for speed'.
The independent review was provided without remuneration from VeloReality -- the team was simply provided with software, sample videos and a Lynx trainer for the evaluation period. Since their initial very positive experience with the Lynx HD bike trainer, the team has agreed to partner with the VeloReality R & D team for their 2014 racing season to assess software and videos as part of the individual Dandies' training programs.
According to the Wheeling Dandies' Report "The LYNX trainer unit is the smoothest trainer you've ever ridden. It has a ride quality much like high-end rollers, but with the ability to provide a dynamic resistance component. The ability to control the current resistance in 0.1% increments of grade, multiple times per second, makes it perform with incredible precision. Having ridden on other electronic resistance units before, they don't come anywhere close to this…. Very smooth and incredibly quiet."
The same day that the Wheeling Dandies review of the Lynx VR Trainer was posted on the Wheeling Dandies web site, a thank you email arrived from from a competitive rider in the United Arab Emirates, who has purchased a for a Lynx unit.
Mohammad Zaki, a competitive rider from Abu Dabi with a sixty hour, high-pressure work week and a young family explains: "I actually prefer training on the Lynx because it gives me superior control over my training regimen, it lets me train on specific courses, and it eliminates the boredom of indoor training with its real look and feel. Unlike the many other trainers I've tried, it climbs correctly and has no slippage or square pedaling issues."
The Lynx Ant+ trainer software is available free from http://www.veloreality.com. The Lynx VR Trainer is available only from VeloReality.com, and from authorized agents and distributors. Get in touch for events and demos.
For more information, or distributor inquiries, please contact:
Gary Bauer
1-888-480-1114 ext. 1
gary(at)veloreality(dot)com
VeloReality is the privately-held maker of the LYNX VR Trainer, a hyper-real system for the discerning cycling enthusiast or riding club. Built in Toronto, Canada, the LYNX VR Trainer comes with a limited warranty on electronics and a lifetime warranty on drive-train and software components. With a growing library of the world's most famous courses, the reality of the LYNX experience is matched only by the quality of its design, engineering and materials. Ride reality.