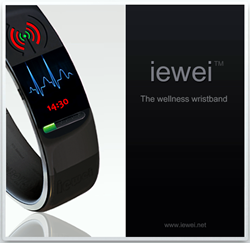 The iewei's wristband alerts wearers when the environment exceeds the radiation level harmful for their health to help them avoid getting body damaging radiations.
(PRWEB UK) 25 February 2014
The last two decades have been littered with doomsday criers foretelling the imminent repercussions of our insatiable urge for carbon based fuel, our destruction of oxygen producing forests and our indiscriminate dumping of industrial waste into the ocean. The 90's were awash with horror stories of holes in the ozone layer, acid rain, melting icecaps and the greenhouse effect. There was even a popular animated cartoon 'Captain Planet' where the villains were big bad polluters. While the Democrats paid lip service to environmental issues, the Republicans dismissed them and although it was bandied between them, it paled next to more immediate concerns like war, social security and the national debt. But as evidenced by the recent craziness over the sold out 'I am not a plastic bag' canvas tote designed for Whole Foods, the growing popularity of hybrid vehicles and concerns about reducing our carbon footprint (total amount of CO2 produced by an object or service) suddenly environmentalism is sexy, hip and center stage. And the image makers in Hollywood have stood up and taken notice.
And then: iewei arrived! Speaking out load a critical situation causing by the invisible pollution also known as electrosmog. Electromagnetic radiation is the emerging health problem of the 21st century. The wristband tooks over 2 years to be developed in one simple product with one goal in mind: to make visible the invisible!
The search for informations about electrosmog is confusing. People gets confused. iewei Ltd. started to dig into that sensitive problem misleaded by the so called scientific information published. 89% of those rapports are paid, conducted and approved by the telecommunication operators. When one independent team of scientists dare to publish the truth about the effects from the radiation on our health, instantly, some powerful Lobbies of the mobile networks operators discredit them. One thing is crystal clear, one thing and only one: we became Lab rat!
There is and has always been electromagnetic radiation, that is natural and our bodies adapted to it. It comes from the sun, it's a natural balance earth with the magnetic fields: it's energy, nothing less, but sometime, with the human intervention, it becomes a way more than 'just energy', it becomes a weapon, an invisible source of radiation everywhere. A source so intense that slowly, but surely, destroys our planet, eradicates some species of animals and kills us.
iewei have a different approach, speaking the truth, with simple words, raising a cause to fight. To go straight to the point: Electromagnetic radiation (from electronic devices like cell phones, computers, baby phones, power supplies, Wi-Fi, Bluetooth, 4G…) increase the risk of cancer. It does cause genetic damage by breaking the DNA. So iewei The Wellness Wristband is a solution.
The telecommunication companies have always being well aware of the risks and possible consequences for the health of the users. But instead of placing a warning, they even push the public to further increase the usage of electrosmog emitting devices. For instance using the phone while in any vehicle, even when stationary. An enclosed metal container produces the "Faraday cage" effect, which maximizes the damaging impact of radiation, reflecting not only on the person phoning but also on other passengers, especially children. Thus it is essential to step out of the vehicle before making a call. This is why iewei is partnership with car constructors in a long term engagement to make the cars not only safe in the road but safe from the road as well!
Governments seem concerned enough to take actions.
In more than a dozen countries the use of mobile phones by children is restricted and the government advises precautions regarding their use. Measures are taken as young children absorb twice as much cell phone radiation than adults because their skull is thinner. In 2011 the International Agency for Research on Cancer (IARC) classified radio frequency as "possible carcinogenic", meaning that there may be an increased risk of brain cancer. (Hold a second! 'may be an increased risk!!!' Since when a potential harmful technology could or should have been granted to the public?)
The latest nation to join in this precautionary principle is Belgium. As of March 1, 2014 sale and advertising of cell phones especially designed for children under the age of 7 years old are banned, as is advertising for cell phones during children's programs on TV, radio and the internet, but our children are still not safe. It remains alarming that the cell phone industry shows no initiative to actively inform the consumers how to use their cell phones more safely. Especially when it comes to people that are highly vulnerable such as children, pregnant women and the elderly. Most of them are completely unaware and have no idea of the health risks that are involved. The iewei wellness wristband tries to fill that gap and create more awareness. It is easy to use, a daily routine like watching the clock. If the LED turns from green into red, its an alert telling wearers that they are in an environment where the radiation has reached a harmful level.
"iewei, is committed to conduct business in an ethical, environmentally friendly and socially responsible way," says Nadine, Head of Marketing. "The products are not being developed and manufactured in some far away cheap labor country. From the start it was clear that the iewei wristband had to be made in the EU. France, Germany and the UK are the key countries for iewei Ltd. as far as it comes to developing, manufacturing and distributing our products. Not only can the consumers be sure of the highest quality of the wristband but also to contributes to the community in these countries by providing work in times that most manufacturers shut off production in Europe and move their business to countries like china, bungladesh, india... This was never an option, made in Europe it is!"
"iewei is not just raising major problem in health issues due to the radiation, but comes with solutions. That can benefit from the advance of science. It's not a step-backward, just a looking forward a vision of a world where wellness co-habit with technology and progress," says Xin, the co-founder and the Managing Director of iewei Ltd.
So let's build together a better tomorrow, with simple basic precaution such as using Ethernet cable instead of the Wifi. It is vitally to take effective action to make all the versions sources of electrosmog compatible with life on earth
For the networks operator 'Greed is good' was the phrase immortalized by Michael Douglas' in his Oscar winning turn as the unscrupulous corporate raider Gordon Gekko in 'Wall Street', the 1987 film that defined that era's 'more is more' culture of excess. But today at least as far as the company concerned 'Green is good.'