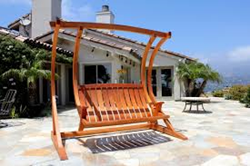 Asheville, NC (PRWEB) February 26, 2014
After more than 30 years as a chairmaker, Brian is internationally recognized as one of the world's premier furniture designers and craftsmen. He is excited to be showcasing several unique and mouth-watering pieces at the Architectural Digest Home Design Show.
The Brian Boggs Chairmakers booth will include Brian's newest design, the Lily barstool. Brian created this inviting addition to his Lily line after the floral-inspired Lily dining chair was named a finalist in the 2014 Niche Awards. The booth will also feature several pieces from the Sunniva Collection, named from a Gaelic word meaning gift from the sun. This collection offers the finest in highly durable yet luxurious outdoor furniture, including a swing, armchair, rocker, settee and cocktail table. Each of these pieces are elegant sculptures perfectly crafted with ergonomically responsive curves and angles for ultimate comfort. Both the Sunniva line and the Lily barstools are a must-see for those attending the show in March.
The 2014 Architectural Digest Home Design Show includes a curated selection of limited-edition, one of a kind fine art, furnishings, photography, and lighting. The Jenn-Air Master Class studio held in the show's theatre, will feature exclusive programming by Architectural Digest and the New York Times. Trade seminars, keynote presentations and a seminar series are also provided.
This is truly an international design show with exhibitors from the UK, Italy, New Zealand, Belgium and Spain. The show features today's top artisan design talents in the MADE section. Brian Boggs Chairmakers will be at booth M101 in the MADE section, where you can experience their world-class luxury furniture first hand. Drop-ins are welcome, or for more formal introductions, appointments can be made in advance by contacting Melanie Boggs at melanie(at)brianboggschairmakers(dot)com.
About Brian Boggs Chairmakers
Brian Boggs Chairmakers offers indoor and outdoor furniture made with the highest level of crafstmanship from inspired designs. All furniture is built in-house and by hand at their workshop in Asheville, North Carolina. The gallery is open Monday through Friday from 10:00-5:00, and Saturdays from 10:00 to 4:00. Tours of the workshop are also available daily. For more information, visit http://www.brianboggschairmakers.com/ Brian Boggs is now catering to the trade sector with a dedicated area on their website. Login is required, click here for details.
Store Address: 8 London Rd, Asheville, NC 28803
This press release was created by Element-360, an Asheville online marketing agency that develops campaigns across the globe. Using a tactical and research-based strategy, E-360 supports clients growing sales through search engine optimization, pay-per-click, and email marketing, in order to generate maximum leads.