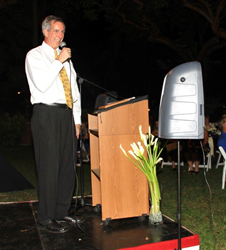 Key West, Fl (PRWEB) February 27, 2014
As the last President of the Key West Hotel & Motel Association, with 25 years in managing the Southernmost Hotel Collection, Matt Babich knows hospitality. This year he was named Key West General Manager of the Year for the second time in his career, and is the only General Manager to do so.
Matt Babich, General Manager of the Southernmost Hotel Collection and Southernmost Beach Cafe, does not like to take all of the credit for the success of his career. "I am honored to have received this award not once, but twice now in my career," Matt Babich states. "2013 was the year for change at our collection of hotels, and we have conquered it together with our continued passion for hospitality. What has made the Southernmost Hotel Collection an award winning resort, is not only the people who stay here, but the people who work here. Our associates take pride in their everyday job of delivering exceptional customer service to our guests, where every guest is our top priority."
"It gives me great pride to work closely with Matt Babich," Alex Novo, Regional Vice President of Operations of Highgate Hotels states. "His great leadership skills, hard-working character, and compassion for his community have made him a great asset not only to our company but to the hospitality industry. He is well-deserving of this award and his proven track record only validates why he has now won this award not once, but twice."
###
ABOUT SOUTHERNMOST HOTEL COLLECTION
The award winning Southernmost Hotel Collection is an elegant group of four unique hotels in historic Old Town Key West, where Duval Street meets the Atlantic Ocean. Southernmost Hotel in the USA, recently renovated in 2012 with all new guest rooms, sits on the quieter side of Duval Street and is within walking distance to many restaurants, shops and is across the street from the beach. Southernmost on the Beach offers a front row seat to the Atlantic Ocean's sunrises and winter sunsets. And, The La Mer Hotel and Dewey House are the only beach front Victorian bed and breakfasts in Key West, Florida. With your choice of 3 pools, 2 beaches – one private and one public, 2 pool bars, an oceanfront bar, The Southernmost Beach Café oceanfront restaurant for dining, a petite spa and many on-property activities, The Southernmost Hotel Collection offers something for everyone.
To learn more about the Southernmost Hotel Collection, 1319 Duval Street, Key West, FL 33040, visit the website at http://www.southernmostresorts.com.