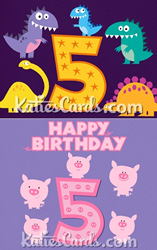 We wanted to create at least two options for each age...They're not necessarily just meant for either girls or boys but they achieve what we set out to do - which is offer greater variety for our members to send on that all important milestone birthday.'
London, UK (PRWEB) February 27, 2014
Katie's Cards, an independent eCard provider based in Teddington, has expanded its age-specific range to cater for a wider variety of children. The designs have been established to offer members more than one option for each age group up to the age of ten, featuring animals and colour schemes to appeal to girls and boys.
The move follows on from the announcement on 28th January of the addition of the new age-specific eCards to the website's extensive birthday category.
For children celebrating their fifth birthday, Katie's Cards offers a dinosaur themed eCard where different species bob to the music before a big '5' appears in the centre of the frame. Alternatively, senders can choose a design of jumping pigs which is accompanied by a big pink '5' to say 'Happy Birthday'.
Commenting on the new additions, Katie Davies, owner and creator of Katie's Cards comments: "We wanted to create at least two options for each age, one which used colours and animals that might be more popular with boys and another that might be preferred by girls. After the popularity of our pink and blue versions of the Cake Game eCard, we thought it would be a good idea to expand our age-specific range in this way."
Katie adds: "After a few weeks story-boarding and animating, the result gave us designs that are quite versatile. They're not necessarily just meant for either girls or boys but they achieve what we set out to do - which is offer greater variety for our members to send on that all important milestone birthday."
The Cake Game is an existing interactive eCard from the Katie's Cards Birthday category. The platform game involves triggering booby traps to stop the attacking cake monsters attempting to get their hands on the birthday cake. 'Attack of the Cake Munchers' has also featured on GameNet where it has achieved over a million plays.
Katie's Cards continue to add to their range of over 250 eCards which include Birthday, Mother's Day and Saint Patrick's Day eCards.
Annual membership with Katie's Cards costs £7.50 but is also available to those overseas in Europe, America and Australia. As part of their membership, subscribers are able to send as many Birthday cards as they wish, all year round.
ABOUT
Katie's Cards is a small, family-run, eCard company based in Teddington, Middlesex. The eCards on the website are exclusively available to members of the Katie's Cards website who can send unlimited eCards for the duration of their subscription. For more information and to preview the eCards please visit katiescards.com
CONTACT
Telephone: +44 208 274 2069
Facebook: facebook.com/Katies.ecards
Pinterest: pinterest.com/katiescards/
Copyright information: This article is free for reproduction but must be reproduced in its entirety, including live links & images; this copyright statement must be included.