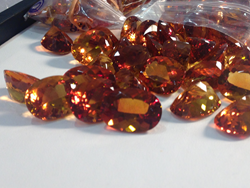 We canvas the world to stay on top of emerging trends.
Knoxville, TN (PRWEB) February 25, 2014
Jewelry Television (JTV) announced key trends and product acquisitions made recently at the largest gemstone event in the world, the Tucson Gem, Fossil & Jewelry Show in Arizona. As one of the largest retailers of gemstones in the world, JTV scours the show each year searching for new gemstone materials and unique stones to bring back to eager collectors.
Key gemstone buys included:

Sphalerite – this gem has four times the light dispersion of a diamond and it comes from a famous Spanish mine originally sealed in 1989.
Colombian Emerald – this emerald sets the standards to which all other emeralds are measured. As it has become more difficult to source, JTV was pleased to find this gemstone available.
Bixbite – An all-American beauty and one of the rarest gems in the world, bixbite is always difficult to attain. Found only in the Wah Wah Mountains of Utah, it is estimated that only one blood-red bixbite crystal is found for every 150,000 diamonds.
Chromium Kyanite – With color and rarity rivaling blue alexandrite in daylight, the chromium kyanite gems come from Orissa, India. This natural untreated gem's unique color is due to a rare combination of trace elements and is sure to excite collectors.
Purple and Blue Spinel – Nicknamed "Gem Island," Sri Lanka is a natural treasure trove of gemological wonders and our buyers discovered rare, untreated purple and blue spinel from this storied locale. The exceptional brilliance, paired with highly saturated hues, set them apart from all other gems on the planet today.
"Our buyers noted that worldwide demand for colored gemstones is on the rise," said Jill Johnson, vp of marketing at JTV. "We canvas the world to stay on top of emerging trends, discover rare gemstones, and make them accessible to anyone who love to collect or create their own jewelry masterpieces."
For more specific information on the gemstones cited above, refer to JTV's extensive online Learning Library.
JTV offers more ways to shop. Check your local television listings, shop online at jtv.com or download free mobile shopping apps for the iPhone, Android, and iPad.
About Jewelry Television®
Jewelry Television® (JTV) is one of the largest multichannel retailers of jewelry and gemstones in the U.S. appealing to fashion-conscious women, jewelry-making enthusiasts and private collectors. The privately-held shopping network broadcasts high definition programming, 24 hours a day, seven days a week, to more than 80 million U.S. households. Committed to consumer education, the network employs numerous Graduate Gemologists and Accredited Jewelry Professionals. JTV.com offers the most comprehensive jewelry and gemstone Learning Library on the internet, and is the third largest jewelry website according to Internet Retailer's Top 500 Guide for 2012.