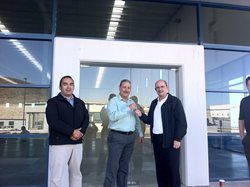 "The combination of San Diego´s R&D centers, and Tijuana´s advanced manufacturing platform, is key for our company´s future vision of maintaining technological leadership." - Victor Diaz, Surgical Specialties, President & COO
Tijuana, Mexico (PRWEB) February 26, 2014
In February, executives of Surgical Specialties announced the company will invest $11 million in its new manufacturing facility in Mexico, as a part of the company´s long term global strategy to meet growing market demand, and increase competitiveness with fast response, competitive price and highest quality in the market.
The official announcement was made by Victor Diaz, President and COO of the company, "We analyzed several destinations and found that Tijuana has the strongest knowledge base and experience in medical device manufacturing, costs reduction, and immediate connectivity with major markets by land and sea."
"We also discovered an innovation ecosystem integrating San Diego´s R&D centers, and Tijuana´s advanced manufacturing platform, this combination is key for our company´s future vision of maintaining technological leadership."
Surgical specialties will establish a 173,000 square feet facility located in CPA´s Tijuana business center, a world-class industrial development just 10 minutes away from the Tijuana-San Diego commercial crossing. The new facility includes a 30,000 square feet ISO8 class 100,000, and office space. Initially the new plant will produce blades and sutures for surgical use, and is projected to employ 900 people over the next two years.
The set up process was completed in a record time of 2.5 months, supported by Tijuana EDC. "They not only provided us with valuable information from the local industry, but also facilitated the site selection process, shared directories of business services providers, and organized meetings with government representatives. Tijuana EDC´s support is a valuable resource for companies looking to establish operations in Tijuana. We had an expert on each field looking on how to facilitate the success of our initial operations."
Surgical Specialties is a global manufacturer of dental sutures and surgical supplies, headquartered in Vancouver Canada, this innovative company pioneers the science of adding medication to medical devices and biomaterials to dramatically improve their performance.
Surgical Specialties employs over 1,400 people around the world, it has 25 subsidiary operations in countries such as U.S., Switzerland, Denmark, Germany, Italy, Brazil, and now Mexico.
About Surgical Specialties - Surgical Specialties Corporation develops and manufactures surgical products for its own brands and as an original equipment manufacturer (OEM) for virtually every medical device company in the US and throughout the world. A US based company with a diverse history under its parent company, Angiotech, Surgical Specialties Corporation brings forward a legacy of product excellence through precision manufacturing while maintaining successful global marketing and distribution relationships.
About Tijuana EDC: Founded in 1989, the non-profit Tijuana Economic Development Corporation (DEITAC as it´s acronym in Spanish) has been dedicated to helping companies of all types take advantage of the benefits found in the Tijuana. With over 100 private-sector members from both sides of the border who are experts in areas like industrial development, construction, law, accounting, custom brokerage and logistics, maquiladora/shelter services and more, the Tijuana EDC can help your company map out a new path to profits and competitiveness.