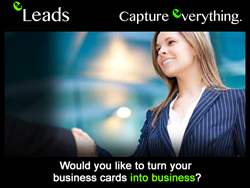 Fairfield, NJ (PRWEB) February 26, 2014
Vision-e today announced the availability of its eLeads app on the Salesforce AppExchange, empowering businesses to connect with customers, partners and employees in entirely new ways. eLeads, one of the fastest business card scanner apps on the market, allows Salesforce administrators, and others, to scan and upload to Salesforce hundreds of business cards every hour.
eLeads Helps Salespeople, Managers, and Other Professionals Fully Leverage The Contacts They Make While Networking
Due to people's increasingly hectic schedules, many professionals find they gather numerous business cards at networking and other business-related events, but then never load them into Salesforce, increasing the likelihood that the crucial step of contact follow-up will never occur. This results not only in wasted time, but also in lost opportunities and, ultimately, lost revenues.
Comments on the News
According to a recent article on Forbes.com, "Meeting someone is just the first step in networking. In order to forge a lasting relationship (and make sure people don't forget you), you need to follow up, every single time." By consistently uploading collected business cards into Salesforce, the act of following up every single time becomes easy, which means it will get done.
Product Key Features
Everything about eLeads is fast and easy—from its installation and setup to its scanning and upload capabilities.
Fast Scanning

Scanning a business card takes only seconds with eLeads and its ScanShell business card scanner.
Users can scan as many cards as they want without stopping to upload to Salesforce. eLeads' handy user interface keeps all information organized until it is time do a bulk upload.
Intelligent OCR
eLeads scans the user's Salesforce database for each email address in the upload, so duplicate records are never accidentally created.
Portable Scanner
eLeads' ScanShell scanner is compact and light, so it can easily be taken on the road or used in the office.
Quick and Easy Modification
After scanning, data from the user's cards is automatically digitized, allowing for fast data manipulation so that all data is entered into the proper Salesforce field.
Additional Resources
About the AppExchange
The Salesforce AppExchange is the world's leading business apps marketplace. With more than 1,800 partner apps and 1.7 million customer installs it is the most comprehensive source of social and mobile cloud apps for business. The Salesforce Platform is the world's most trusted and comprehensive cloud platform for building social and mobile cloud apps, powering Salesforce CRM, and more than 3 million custom apps built by customers and partners. Apps built on the Salesforce Platform can be easily distributed and marketed through salesforce.com's AppExchange.
Salesforce, AppExchange and others are trademarks of salesforce.com, inc.
About Vision-e
Vision-e, in alliance with Salesforce, is a leader in CRM implementations and productivity applications. Vision-e meets the emerging needs of customers by providing rapid CRM implementation, mobile and cloud computing technologies and external system integrations.
Vision-e has the experience and expertise to deliver fast and responsive Salesforce solutions so customers get the performance they expect.
From bakers to bankers, garages to GM, Vision-e creates affordable, effective, customized Salesforce solutions for any size business, with any size budget. Vision-e puts its customers first so they can put their customers first.
"Vision-e provides elegant, highly customizable solutions that help companies of all sizes get the most out of the Salesforce platform. Vision-e: it's Salesforce…extraordinary." ~ Jule Limoli, CEO, Vision-e
For more information on Vision-e, go to http://www.Visione.com or call 888-611-2679. Vision-e is headquartered in Fairfield, NJ.