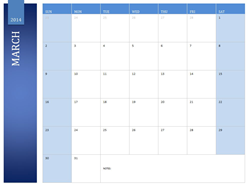 The March 2014 calendar is full of activity.
(PRWEB) February 27, 2014
The month of February is quickly coming to an end and spring is on the horizon. Warmer temperatures, college basketball and big celebrations promise to make the month of March a busy one for most.
To get people prepared for the start of spring, TemplateHaven.com has unveiled the complimentary March 2014 calendar as part of its new calendar collection.
"The year 2014 is moving right along," said TemplateHaven.com spokeswoman Heather Watney. "It feels like just yesterday we were ringing in the New Year and now warmer temperatures and spring time events are already on the way."
The March 2014 calendar can be used in a variety of ways. The calendar is an Excel template that can be downloaded in a matter of seconds. You can store the March 2014 calendar on your computer or other personal device. It can also be printed off to use as a quick reference for upcoming birthdays, holidays, appointments and much more.
There are some important dates on the March 2014 calendar folks will want to note. Daylight Saving Time will begin across the country on Sunday, March 9th. Don't forget to wear green in honor of St. Patrick's Day on Monday, March 17th. Thursday, March 20th marks the official start of spring.
March is also a big month for sports. Preparations for the Major League Baseball regular season continue as spring training rolls on in Florida and Arizona. In addition, one of the biggest sports events of the entire year gets underway as the NCAA men's basketball tournament begins on March 18th.
"Staying organized can be a struggle but it doesn't have to be," said Watney. "Helpful templates like the March 2014 calendar can help you stay on schedule and on track."
For the instantly downloadable, printable and complimentary March 2014 calendar, or for hundreds of other Microsoft templates, please visit TemplateHaven.com.