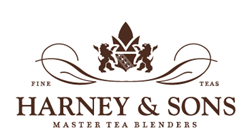 New York, New York (PRWEB) February 25, 2014
Harney & Sons Fine Teas, celebrating 30 years and three generations of master tea blending, is pleased to announce their SoHo Tea Shop & Tasting Room has been named by Food & Wine as one of the World's Best Tea Shops. Located in the heart of New York City's SoHo neighborhood, Harney & Sons SoHo features a tasting bar that allows guests to sample over 250 tea varieties, prepared by skillful master brewers. The shop offers classic Harney teas, exotic blends, and specialty tea products.
Harney & Sons SoHo is a refuge from the busy streets of Manhattan. Warm interiors and sweet scents of tea provide a modern twist on the traditional tea salon. Food & Wine states: "Specializing in gourmet tea since 1983, Harney & Sons is a family-run American company headquartered in Millerton, New York. Now an international powerhouse, the company produces and distributes the finest-quality loose teas and tisanes, along with organic and certified kosher products. The trendy SoHo shop offers more than 250 varieties at the tasting bar, along with monthly classes."
The Harney family is committed to consumer knowledge and sharing their vast knowledge of tea through the shop's regular tasting flights. Guests are invited to sample different teas prepared by the shop's experts. Classes are lead by Emeric Harney, the shop's manager and a third-generation Harney. Emeric guides tea drinkers through the origins and flavors of each blend, and shares his favorite tea tips.
Harney & Sons is proud to be named one of the World's Best Tea Shops. The Harneys work to preserve founder John Harney's tradition of fine tea. After 30 years, Harney & Sons continues to bring tea drinkers new and exciting way to experience tea.
About Harney & Sons Fine Teas
This year, Harney & Sons Fine Teas celebrates 30 years of success. With three generations dedicated to the family business, they specialize in delivering high-quality teas and tea products to their customers from the tea garden to teacup. Their goal is to bring the exotic aromas and refined tastes from around the world to tea drinkers as an affordable luxury.
Harney & Sons SoHo Shop & Tasting Room
433 Broome Street, New York, NY 10013
(212)993-4853