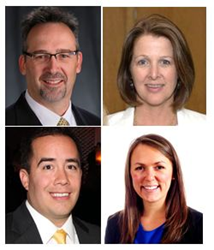 "I'm confident that the intelligence, creative thinking and commitment of these people will help us serve more and more children and families with the highest quality services." - B. Wayne Sims, President and CEO, KVC Health Systems
Olathe, KS (PRWEB) February 25, 2014
KVC Health Systems, a national child welfare and behavioral healthcare organization headquartered in Olathe, Kan., today announced the addition of four Kansas City area leaders to its staff, management board and volunteer boards:
Patrick Desbois, Vice President, Executive Office of Garmin International, Inc., has joined KVC's Board of Directors. Desbois, a 20-year veteran with experience on PCs, tablets, handhelds, communication devices and embedding data storage products, is responsible for managing selected subsidiaries of Garmin as well as working closely with Garmin's executive team on high-level projects. As part of KVC's Board, Desbois will help set vision and strategy, fundraise and serve as an ambassador for the mission of KVC.
Michelle Lawrence recently joined KVC as Vice President of Development. She brings twenty years of experience in healthcare, nonprofit resource development and community outreach. She most recently served as Senior Director of Community Giving for the Saint Luke's Foundation. Previously, she worked as Senior Vice President for Community Development at Sunflower House. In her new role at KVC, Michelle will foster a culture of philanthropy throughout the organization, promote donor-centered giving and build strategic relationships to support KVC's industry-leading child welfare work.
Richard Webdell has taken the role of President on KVC's General Board. Webdell is an independent financial planner and currently serves as President and Investment Executive at Webdell Financial. Previously, he was with AXA Advisors. In his new role with KVC, Webdell will spearhead efforts to increase awareness of and support for KVC Health Systems among business leaders in the community.
Emily Baird is the new President of the KVC Young Advisory Board, a group of young professionals who are dedicated to using social media and other forms of influence to raise awareness of KVC's foster care, adoption and behavioral healthcare services. Baird is a Certified Public Accountant with MarksNelson. She has both private and public accounting experience and has previously worked as a tax consultant at a Big 4 firm.
"We're happy to welcome these four leaders to KVC," said B. Wayne Sims, President and CEO of KVC Health Systems. "It takes a team of dedicated staff and volunteers to achieve KVC's mission of enriching and enhancing the lives of children and families. I'm confident that the intelligence, creative thinking and commitment of these people will help us serve more and more children and families with the highest quality services."
About KVC Health Systems, Inc.
KVC Health Systems, headquartered in the greater Kansas City area, is a private, nonprofit 501(c)3 organization committed to enriching and enhancing the lives of children and families by providing medical and behavioral healthcare, social services, and education. KVC's diverse continuum of services includes foster care, adoption, in-home family therapy, behavioral healthcare, and children's psychiatric hospitals. In its 44-year history, KVC has grown since from a single Kansas home for boys to a national organization serving tens of thousands of children in five states and Washington, D.C. Due to KVC's leadership in the use of evidence-based research to achieve better outcomes and advance child welfare, the Annie E. Casey Foundation recently endorsed KVC as a best-practice organization. Learn more at http://www.kvc.org.