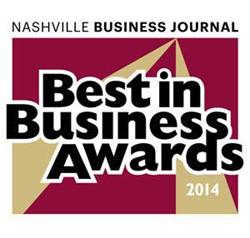 Nashville, TN (PRWEB) February 27, 2014
SiteHawk, the leading innovator in cloud-based safety data sheet (SDS) and chemical data management solutions, is pleased to announce its selection as a 2014 Best in Business finalist by the Nashville Business Journal. This nomination marks the second time in the last four years that the company has been recognized for its exceptional business growth, strategic vision, and impact in the community.
Companies were evaluated by a host of judges assembled from the local business and academic communities. The 2014 finalists were rated on growth, the execution of their business plans and how they're meeting business challenges, today and for the future.
"We appreciate the nomination, especially given the number of innovative and growing companies in the Nashville area right now," commented Kim Stier, President of SiteHawk. "We're fortunate to have a thriving employee base that allows us to delight our customer community."