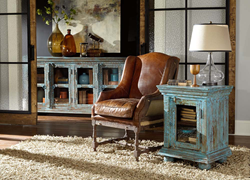 Austin, TX (PRWEB) February 25, 2014
Based on retail customer's success, Austin, TX-based manufacturer Home Trends & Designs expanded their French Vintage, Crank Tables, London Loft, Organic Forge and Jaipur collections for debut at the January 2014 Las Vegas Furniture Market. While all share the unifying theme of being quality handmade furniture, each collection carries its own unique personality that makes it stand out as a true heirloom piece.
The French Vintage Collection mixes European elegance with American Style. Constructed of solid pine, with metal doors, adjustable shelving and beautiful crown molding, this collection becomes a focal point on any retail floor.
The Crank Table Collection has expanded table top options to include cast iron and solid Acacia wood. Each piece is adjustable, comes in various sizes and is composed of reclaimed and sustainable iron and solid wood materials. This collection is a true blend of the industrial look and functionality.
London Loft continues to raise the bar, unifying contemporary styling with sustainable materials. Each piece is done in a beautiful walnut finish, constructed from solid Acacia wood tops with sleek iron supports.
The Organic Collection quickly became recognized as a true work of art with its live edge design and hand-rubbed finish. Each piece contains low VOC water-based finishes and is hand built from solid Acacia Wood.
Warm colors, intricate carvings and crown molding touches, the Jaipur collection continues to be a hit with retailers at the Las Vegas market. With multiple distressed color finishes and sizes to choose from, it gives tremendous flexibility for retailers to match the right product with their customer.
Hank Cravey, CEO of Home Trends & Design, shared this of his company's growing success: "In a time when quality is sacrificed for price, Home Trends & Design drives against that movement to create heirloom quality solid wood furniture with uncompromising value and design from sustainable resources. That philosophy has been the hallmark of the company since it was founded in 2005 and can be seen in every piece of furniture we create."
About the company:
Home Trends & Design is one of the Founding Members of the Sustainable Furnishings Council, a group of manufacturers that promotes eco-friendly practices. Their desire to make eco-friendly products leads them to work primarily with Mango and Acacia trees for their solid wood furniture, as well as reclaimed wood from other sources. Not only does their choice of materials lead to beautiful and long-lasting furniture, meaning it won't have to be replaced as often, but it also reduces the carbon footprint involved in their manufacturing. HTD has more than 17 lines of living room furniture, 20 collections of dining room furniture and much more. Register online to see their full product line. To learn more please visit the company website at http://www.htddirect.com, their Facebook page at https://www.facebook.com/HTDDirect, and Pinterest page at http://www.pinterest.com/htddirect.