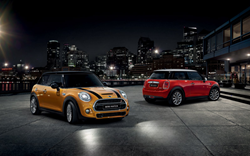 performance and economy leave its predecessor standing
Oxford (PRWEB UK) 27 February 2014
The all-new MINI has earned rave reviews from top UK motoring publications ahead of it going on sale at all Cooper Mini branches in Spring of this year. Reporters from some of the UK's top Tabloid and Broadsheet press, including The Sunday Times, Telegraph and The Sun, will also be flying to Puerto Rico next week to take the brand-new MINI Hatch for its first drive; while right hand drive versions of the brand-new Cooper D and Cooper S will be available for testing on 10th March at the UK Media Launch.
For those reviewers lucky enough to already have a sneak preview of the all-new MINI the feedback has been universally positive. Leading motoring publication, Autocar, described it as "better in every single way" and "undeniably more fun to drive"; while Top Gear praised it for being "more refined, better-riding and safer" as well as "lively, fun and visceral". Other plaudits came flooding in from Auto Express, who proclaim that the MINI's "performance and economy leave its predecessor standing"; whereas Car Enthusiast feels that the new MINI Cooper S "has the measure of its supermini hot hatch rivals".
Matt Dalton of Coopermini, the UK's largest authorised MINI dealership, believes that getting the "seal of approval" from so many well-respected motoring publications in the industry is a "great start" for the new MINI F56, saying "This really is the perfect platform for the new MINI range and just makes us even more eager to get our hands on the latest models.
With all the hype around the fun driving credentials, technology upgrades and all round capability of the new range, 2014 looks like being a busy year for us; so we'd advise customers to be quick if they want to get behind the wheel of an all-new MINI early on," he/she added.
About Coopermini
The Cooper Group is one of the largest MINI retailers in the UK and forms part of Inchcape Retail; a complete automotive solutions provider. It consists of seventeen dealerships across the UK ranging all the way from Kent and Essex to Tyne and Weir. Coopermini forms a one-stop-shop from buying a MINI to servicing it over the length of ownership; operating a customer-focused approach to the car buying process to achieve a culture of "service excellence" for all customers.