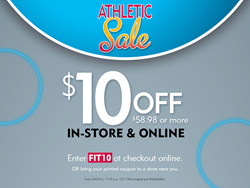 "As the weather starts to warm up it is crucial to make sure everyone is fitted with the best equipment, starting with footwear," stated Todd Beurman, Senior Vice President of Marketing at Shoe Carnival
Evansville, Indiana (PRWEB) February 26, 2014
A leading family footwear retailer, Shoe Carnival, announces their Super Athletic Sale just in time for spring. From February 26th through March 11th, customers can enjoy reduced prices for brands like Nike, Reebok, Puma, Skechers, New Balance and more.
As an exclusive retailer for the Reebok 5.0 Running Shoe for men, women, and children, customers will also receive an additional $10 off the superior athletic shoes for a limited time. Created with RealFlex technology, the Reebok 5.0 promotes natural motion and flexibility while training.
The current sale is ideal for any athlete or active families looking for superior performance this spring.
"As the weather starts to warm up and you start to plan hikes and outdoor activities, or as your child's sports teams start to pick up, it is crucial to make sure everyone is fitted with the best equipment, starting with footwear," stated Todd Beurman, Senior Vice President of Marketing for Shoe Carnival.
As one of the nation's largest family footwear retailers, Shoe Carnival is known for offering superior value on brand names all year round. With a strong emphasis on customer service, the footwear experts help all customers find the perfect sneaker for them.
Available online and in-store, customers can visit any one location to take advantage of the Super Athletic Sale. For more information about the spring sale or Shoe Carnival please visit: shoecarnival.com.
###
Shoe Carnival
Shoe Carnival, Inc. is one of the nation's largest family footwear retailers, providing the convenience of shopping at over 376 stores in 32 states and Puerto Rico as well as online. We offer customers a completely unique and fun shopping experience with a broad assortment of moderately priced dress, casual and athletic footwear for the whole family with emphasis on national and regional name brands. For a full list of store locations and brands, visit http://www.shoecarnival.com.