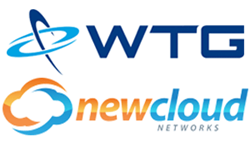 "...we have realized that engineering is the key to Cloud Services. We knew we needed to partner with a company who has a strong engineering background and NewCloud Networks is just that." Vince Bradley, CEO at WTG
Denver, CO (PRWEB) February 26, 2014
NewCloud Networks, a Denver-based Cloud Computing and Communications provider has added notable Master Agent World Telecom Group (WTG) to their Channel Partner Network. The partnership between the companies will allow WTG to sell NewCloud's services including Backup and Disaster Recovery, Virtual Private Data Centers and Virtual Servers.
"At a time when Cloud has become the focus of our industry, we have realized that engineering is the key to Cloud Services. We knew we needed to partner with a company who has a strong engineering background and NewCloud Networks is just that," said Vince Bradley, CEO of WTG. He adds, "Not only do they have the engineering experience necessary to deliver top of the line Cloud services, they also have decades of experience in technology and well defined processes, products and pricing. We are very impressed with NewCloud and we're excited to work with them in 2014 and beyond."
NewCloud will introduce its services to WTG's Agents during a launch call to take place in March. After the launch call, NewCloud plans to have weekly educational webinars for WTG's agents to keep them abreast of industry information, company products and selling best practices. Rodney Nesbit, Director of Channel for NewCloud stated that, "NewCloud's goal with their partner webinars is to make agents comfortable enough with Cloud to start the conversation. From there, we take care of the rest of the selling process from start to finish, keeping the agent involved in every step. This is a model we have used with our other agent partners and it works very well."
Sam V. Kumar, President of NewCloud Networks is looking forward to the partnership between the companies. He states, "We know that our success has been in huge part due to our channel partners and WTG is a well-known and well respected Master Agent. I'm looking forward to introducing our services to their agents and the inevitable growth that both companies are going to enjoy."
WTG agents are encouraged to reach out to Rodney Nesbit, NewCloud's Director of Channels with any inquiries about the partnership.
About WTG: WTG is a premier Master Agent providing exceptional service to agent partners since 1996. WTG Agents have the ability to sell and consistently expand their business without commitments or quotas. Partners have access to PartnerEdge, the leading edge sales process software, allowing for complete automation of the sales process. WTG is 100% partner driven and pays top commissions in the industry. WTG exceeds expectations with a dynamic approach to partner support and its commitment to success. (source: http://www.worldtelecomgroup.com)
About NewCloud Networks: NewCloud Networks is a nationwide Cloud Computing and Communications Provider. NewCloud specializes in the deployment of Virtual Servers, Virtual Private Data Centers, Backup and Disaster Recovery, Virtual Desktops and Hosted PBX to mid-sized and small enterprise businesses.