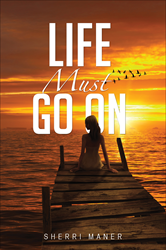 The joy and sorrow is portrayed so well. It touched me in many ways, reminding everyday to be thankful, loving and to hug a lot.
Johns Creek, Georgia (PRWEB) February 28, 2014
'Life Must Go On' by Author Sherri Maner - is the inspirational story of a special friendship torn apart by death and recounted by the one that was left behind – robbed of a last goodbye.
Carolann and Sherri met as neighbors and quickly became best friends as they traveled side by side as women, wives and mothers. At the same time Carolann was diagnosed with cancer, Sherri fought to save her unborn child during a troubled pregnancy. Through faith and modern medicine, Sherri gave birth to a healthy daughter and Carolann's cancer was stifled into remission but, the victory was short-lived. Carolann's world continued to be plagued by the monster that eventually took her life. Tragically, their relationship ended without at last touch or final word between best friends. Sherri was left devastated, empty and longing for the strength to move past her lost friendship. With a miraculous last gift from the beyond the grave, Sherri was given the strength and courage she prayed for.
What readers are saying about the book:
"Your book reminds us all that struggles are a part of life and finding the courage to get through them and move on is a must. You have to heal the soul to carry on with living." – S. Drake
"Anyone that has lost someone or is going thru an illness should read this book." – Lori M.
About the Author:
Sherri Maner is a native to Georgia and spent 29 years in the banking industry. Currently, she and her husband operate a senior move management company "Smooth Transitions of Greater Atlanta". Sherri states "My life-long dream was to write children's books. When I lost Carolann, I began a journal of our life which spanned from our first meeting, battling cancer, losing her then, to my survival." Sherri, through this heartbreaking experience, decided to share her story with the hope of helping others who had lost friends or loved ones.
A book signing will be held at the FoxTale Book Shoppe in Woodstock, GA on Friday, March 7 from 6:30 p.m. to 8:30 p.m. The book is also available online at http://www.tatepublishing.com/bookstore as well as barnesandnoble.com and amazon.com.