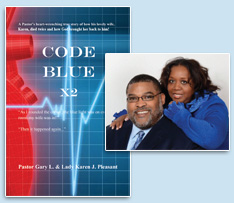 On October 2&3 2013, I found out just how quick you can lose someone.
Ferguson, MO (PRWEB) February 26, 2014
Self-publishing author Gary L. Pleasant, with his descriptive writing style, takes readers on a journey in his sixth book as he shares how he witnessed his wife die twice, only to see her restored. His wife, Karen, died for four minutes and then six minutes, and suffered no brain damage. Medical staff declared her a medical miracle. Pastor Pleasant invites readers straight into the hospital room with him as he relives the life-changing event. "I felt as though I was right there," exclaimed reader Jean Nashville.
Included in this riveting book is the appearance of an "Angel." The author leaves it up to the reader to determine if there was a visitation from heaven. Warning: Do not read this book without a box of Kleenex. You are sure to experience many emotions as you turn each page of Code Blue X2. Pastor Pleasant's passion and faith jump off the pages of the book: "On October 2&3, 2013, I found out just how quick you can lose someone. I also hope that this book will inspire many to look to God in the midst of crisis...or just look to Him. Period. He saved my wife's life! Twice!"
Here's what people are saying about it:

This is a must read!
I cried, rejoiced and laughed!
A true love story!
A must read for every couple!
This must be a movie!
The book includes a personal statement from Lady Pleasant and photos from the hospital stay. It can be purchased here. The ebook version is available through Amazon, Barnes & Noble, Apple, and Sony.
Pastor Pleasant ​is the Senior Pastor and Founder of New Life Christian Church, Inc. in Florissant, MO. He is the author of "Against the Grain," "Noah Tried, Nobody Listened, Will History Repeat Itself" and "SNAPSHOTS" (short challenging writings). He is the founder of Little Arrows Child Care and Brothers Keepers Men's Ministry. He is married and still on his honeymoon with his lovely wife of 25 years, Karen J. Pleasant. Pastor Pleasant is an example of how God can take a person with a broken, crushed life and use them for His Glory.