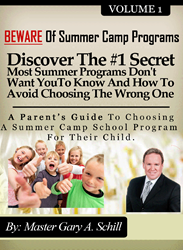 Choose One Camp per summer, this will them build consistent routines.
Cedar Park, Texas (PRWEB) February 26, 2014
Bonus Tip #7 Pick One Camp
Master Schill from Peak Performance Summer Camp located in Cedar Park Texas recommends parents choose one camp to enroll their child in during the summer months.
I know you are thinking, come on, I want my child to attend multiple camps, meet different people, experience different things. This is great in theory, yet many times is has just the opposite effect.
The summer months are some of the most important times of their lives. This is typically when most children grow the most. It can also be the most detrimental of times if they are not in the proper program that will help them grow mentally, emotionally, socially and physically.
At Peak, we have a program that specifically covers all of these aspects. We focus on their development and growth that will benefit them for a lifetime. Yet it is done is a fun, loving and structured manner with adult professionals that are specifically trained to help your child achieve their greatest growth possible.
Read this first then close your eyes and imagine. By the end of the summer, your child will be taking care of their responsibilities at home, i.e, "Making their Bed, Cleaning their Room, Picking up After Themselves"….. without you having to fuss at them constantly.
I hope this gives you some great tips to ensure your child will experience their greatest summer ever. For more information about the greatest summer camp in the Austin, Cedar Park and Master Schill wrote a summer camp guide for parents outlining the top ten secrets most summer camp programs do not want you to know. The name of the book, "Warning, Discover the Number 1 Thing Most Summer Camp Programs do not want you to know."
Master Gary A. Schill is a leading authority on Child and Family development. For more than 39 years he has studied the Martial Arts. As the owner and chief instructor of Peak Performance Martial Arts, Master Schill runs one of the most successful Summer Camp and After School Programs in the country.
In addition, Master Schill is a 3 time best-selling author, his latest book "The Success Secret" was co-authored with Jack Canfield (Chicken Soup for the Soul co-author). Master Schill's has been featured on all of the major networks, ABC, NBC, CBS and FOX, as well as The USA Today.
For more information on this book and other summer camp tips, visit http://www.SummerCamp14.com or call 512-918-8921.