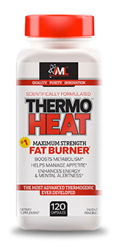 THERMO HEAT™, the Most Revolutionary Fat Burner Ever Developed
Setauket, NY (PRWEB) February 27, 2014
Steve Blechman, President of Advanced Research Media, Inc., recently announced the launch of Advanced Molecular Labs (AML), a new science based nutritional supplement company. The company's first new product, a scientifically-formulated fat burner and thermogenic called Thermo Heat, is set to go to market on March 1 of 2014.
Mr. Blechman's background in the nutritional supplement industry includes over 27 years experience at Twin Laboratories Inc., where he served as both Vice President and head of product development. During his tenure, Twinlab became the first company to develop and market creatine, whey protein, fat-burning stacks, pure amino acids such as L-arginine, high-potency omega-3 fish oils, and a host of other now familiar nutritional and dietary supplements. Though consumers may not be aware of it, many of the most popular supplements on the market today were developed by Twinlab under the direction of Mr. Blechman.
In 2001, Mr. Blechman acquired Advanced Research Press (now called Advanced Research Media) from Twinlab. ARM is now a multimedia publishing company known for popular publications like Muscular Development, FitnessRx for Women and FitnessRx for Men.
Mr. Blechman announced his return to the formulation and development of dietary supplements with the following statement:
"After 27 years at Twinlab, I continue to maintain the keen passion and interest for developing and bringing to market the most unique, scientifically formulated nutraceuticals and dietary supplements that enhance optimum health and human performance. For over 40 years, I have studied the latest findings regarding nutrition, supplementation and athletic performance. …With that said, I'm pleased and excited to announce… a new cutting-edge supplement company called Advanced Molecular Labs (AML)."
Advanced Molecular Labs will work closely with researchers, scientists, physiologists, molecular biologists, biochemists, and a host of other scientists and health experts to produce health, nutritional and performance products based on the latest scientific research.
Mr. Blechman added, "I am committed to discovering the truth about which dietary supplements work and which ones don't. AML will donate a percentage of its company profits to university studies at prestigious institutions to further the science of performance nutrition and wellness."
On March 1, 2014, Advanced Molecular Labs officially introduces its first new product, Thermo Heat. Billed as a "revolutionary fat burner and thermogenic," Thermo Heat activates and augments the body's brown adipose tissue (BAT), a powerful fat burner. Thermo Heat is a patent-pending, scientifically developed proprietary blend containing biologically active BAT activators for enhancing thermogenesis and fat burning. Thermo Heat also contains other thermogenesis activators, which further enhance fat burning and thermogenesis in the body. Thermo Heat boosts metabolism, helps manage appetite plus enhances energy and mental alertness. Thermo Heat is free of prescription drugs, ephedra, illegal amphetamines, amphetamine-like drugs, green tea extract, and concentrated green tea catechins that may enhance liver toxicity in certain individuals.
About Advanced Molecular Labs (AML):
AML will have the resources and scientific research to stay on the cutting-edge of product development to pioneer new nutritional and performance breakthroughs and help maintain, if not improve, the quality of life. For more information on Advanced Molecular Labs please visit http://www.advancedmolecularlabs.com or on Facebook at http://www.facebook.com/AdvancedMolecularLabs