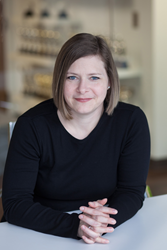 Vetter exemplifies the virtues of Agency Marketer of the Year. -- Carol Godfrey, Southwire Company
Atlanta, Georgia (PRWEB) March 03, 2014
Over in Sochi, Russia, the world's best athletes were just celebrated for pushing the limits of physical potential. On March 13, the Atlanta Chapter of the American Marketing Association will present its 2013 Agency Marketer of the Year (AMY) Awards — marketing's own "gold medal" for exceptional talent, leadership and vision.
Moira Vetter, founder and CEO of Atlanta-based Modo Modo Agency, is among the three finalists for the Agency MOY AMY Award. The Awards ceremony will be held at the Fabulous Fox Theatre on March 13, 2014.
Vetter, who has guided hundreds of business leaders over the past 25 years, was nominated not only for her success as a marketer and thought leader, but also her work in community service and mentoring. Some recent achievements:

She founded NoYo Press, and authored and published AdVenture, An Outsider's Inside View of Getting an Entrepreneur to Market. The book reveals unique psychological and commercial drivers unique to entrepreneurs that must be considered when ushering them to market.
Vetter is a tireless mentor who enjoys nurturing young careers. She currently serves on the Georgia Department of Education Marketing Cluster, helping create a marketing curriculum that ensures students are adequately prepared for the business world.
Additionally, Vetter supports the agency's DoGooder program, donating the time of the entire Modo Modo team one business day a quarter for community service projects for over 400 volunteer hours a year.
Summing up how Vetter exemplifies the virtues of Agency Marketer of the Year, nominator Carol Godfrey of Southwire Company had this to say: "Moira Vetter believes in starting with the end in mind, working backward, and ensuring that the end you envision is one that serves all stakeholders. She walks the walk to support her staff, her clients and the larger community in growing and achieving their ultimate goals and realizing their best potential."
________
Moira Vetter is CEO of Modo Modo Agency, an award-winning B2B Strategic Marketing firm with offices in Atlanta and Los Angeles. The firm has full-service expertise and caters to complex B2B firms and has particular depth in the areas of high tech/software, health care, private equity, pharmaceutical, business/professional services and manufacturing.