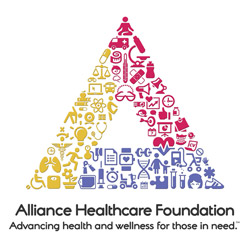 'We received a record number of applications this year. I'm tremendously proud to work with our Board of Trustees in showing our dedication to providing funding for both San Diego and Imperial Counties.' - Nancy Sasaki, Executive Director
San Diego, CA (PRWEB) February 26, 2014
Alliance Healthcare Foundation (AHF), a non-profit organization working to advance health and wellness for those in need in San Diego and Imperial Counties, announced today that it will fund 29 local organizations through its Mission Support Grants program with awards totaling $1,050,000.
More than 100 non-profit organizations applied for AHF's Mission Support Grants program. Grant recipients were chosen through a detailed process involving AHF's board of trustees and program committee as well as the community. Of the 29 organizations receiving grants, 20 are located in San Diego County and nine in Imperial County. To be considered in the competitive application process, local organizations were asked to demonstrate past and planned innovations, collaboration with other organizations, and their unique role in improving health and wellness across our region. Mission Support Grants range from $25,000 to $100,000.
"We received a record number of applications this year from many worthy organizations, making the selection process quite difficult," said Nancy Sasaki, Executive Director of Alliance Healthcare Foundation. "I was especially thrilled to see the continued growth of applicants from Imperial County. I'm tremendously proud to work with our Board of Trustees in showing our dedication to providing funding for both San Diego and Imperial Counties."
Ahmed Sahid, President at Somali Family Service, leads one of the organizations that has received previous grants. "Somali Family Service is grateful to AHF for its tremendous ongoing support of our work and efforts in improving the lives of East African refugees in San Diego. SFS was granted Mission Support Grants, and through these grants we were able to provide vital health services that the community needs. AHF truly cares about its grantees by investing in them and providing them various trainings and seminars to increase their capacity and effectiveness in serving the underserved."
The 2014 AHF Mission Support Grant recipients include:
San Diego County:

2-1-1 San Diego (211sandiego.org)
Alliance Health Clinic (alliancehealthclinic.org)
Bayside Community Center (baysidecc.org)
CHIP (Community Health Improvement Partners) (sdchip.org)
Christie's Place (christiesplace.org)
Council of Community Clinics (ccc-sd.org)
Embrace (embrace1.org)
Neighborhood House Association (neighborhoodhouse.org)
North County Lifeline (nclifeline.org)
Outdoor Outreach (outdooroutreach.org)
San Diego County Medical Society Foundation (sdcms.org)
San Diego LGBT Community Center ("The Center") – (thecentersd.org)
San Diego Rescue Mission (sdrescue.org)
San Diego Youth Services (sdyouthservices.org)
Senior Community Centers (servingseniors.org)
Shakti Rising (shaktirising.org)
Solutions for Change (solutionsforchange.org)
Somali Family Services (somalifamilyservice.org)
UC San Diego Owen Clinic (owenclinic.ucsd.edu)
UC San Diego Student Run Free Clinic (meded.ucsd.edu/freeclinic/)
Imperial County:

Cancer Resource Center of the Desert (crcdinc.org)
Comite Civico del Valle – (ccvhealth.org)
Court Appointed Special Advocates (CASA) (casaimperialcounty.org)
Family Treehouse – (myfamilytreehouse.com)
Heffernan Memorial Healthcare District
Imperial Valley Child Abuse Prevention Council
Imperial Valley Food Pantry – (ivfoodbank.org)
Neighborhood House Association of Calexico – (nhclx.org)
Sister Evelyn Mourey Center
To review the application videos from this year's grantees visit the AHF YouTube Channel at http://www.youtube.com/AllianceFoundation.
About Alliance Healthcare Foundation
Alliance Healthcare Foundation (AHF) works to advance health and wellness for the most vulnerable – the poor, working poor, children and homeless in San Diego & Imperial Counties. We look for ways to collaborate with non-profit, government and community agencies to further this goal. For more information visit http://alliancehealthcarefoundation.org.