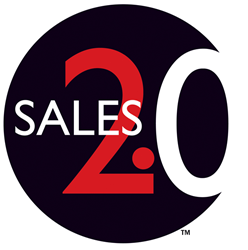 A proper compensation plan can get reps to align their behaviors with the larger strategic goals of the business.
Santa Cruz, CA (PRWEB) March 05, 2014
Sales Dot Two, Inc., producer of a leading industry event series for B2B sales managers and executives, is pleased to announce that Scott Broomfield, CMO and SVP of Xactly Corporation will speak at the Sales 2.0 Conference in Philadelphia on March 10.
The event, which is centered on the theme "Sales Transformation Strategies," will focus on technology, processes, and leadership initiatives that can help companies achieve long-term success and build a sustainable revenue engine.
The Sales 2.0 Conference has been hailed by Forbes magazine as one of the top ten conferences entrepreneurs should attend in 2014.
Broomfield will speak on Monday, March 10 at 10:50 a.m. at a presentation titled, "Your Aha Moment in Sales Performance." The description of his session states: "Imagine a company in which sales and finance agree on everything: a company in which sales never mumbles about the "penny-pinchers" in finance, and finance never wants to tell the sales team where to shove it when yet another SPIF is requested. Imagine a company in which the two are – dare we say it? – friends. Perhaps you're so used to sales and finance duking it out like Luke and Vader that you can't wrap your head around the concept of the two adversaries getting out of the ring. But if your organization has automated its incentive-compensation process, then you've likely remedied the discord between sales and finance. In this session, you'll discover how you can transform your organization and end the contention between sales and finance once and for all."
In a recent video Broomfield said, "Sales transformation is not an incremental change. It's a fundamental change. It's not taking water from one degree to another degree, it's going to ice, to water, to steam." Broomfield added that transformation has to do with mindset. For example, Xactly data has shown that a proper compensation plan can get reps to change their mindset and align their behaviors with the larger strategic goals of the business.
"We are excited to welcome Scott to the Sales 2.0 Conference and benefit from the depth of his expertise around motivation, compensation, sales performance, and sales transformation," says Sales 2.0 Conference host and Selling Power founder Gerhard Gschwandtner. "We have planned a highly interactive session during which the audience will have the opportunity to ask questions that relate to their personal business challenges."
The Sales 2.0 Conference will be held on March 10 in Philadelphia. There is still time to register.
For more information, visit http://www.sales20conf.com/Philadelphia2014/agenda.html.
About the Sales 2.0 Conference
The Sales 2.0 Conference showcases leadership strategies and SaaS technologies that help B2B sales and marketing leaders create more competitive teams and drive higher profits. Attendees learn how to achieve measurable success in such areas as CRM use, sales and marketing collaboration, lead generation and pipeline management, social media for sales and marketing, analytics and metrics management, customer engagement, sales transformation and change leadership, and sales process improvement.
About Xactly Corporation
With Xactly, companies of all sizes and industries can unleash the motivational power of their incentive compensation programs to inspire better employee performance and business results. Xactly's secure, cloud-based incentive compensation and performance management solutions enable emerging businesses to Fortune 500s to easily design, manage and optimize incentive programs that save time, cut costs, reduce risk and align employee behaviors with corporate goals.
As evidence of Xactly's continuous innovation and exceptional customer-centric culture, the Wall Street Journal twice named Xactly to its "Next Big Thing" list; Great Place to Work featured Xactly as one of the top 25 small workplaces in the nation in FORTUNE Magazine; CRM magazine named Xactly the Market Leader in Incentive Management by for the past five consecutive years; and Salesforce.com customers voted Xactly the best sales compensation management solution in the Salesforce AppExchange Customer Choice Awards. To learn how you can incent right and achieve more with Xactly, visit http://www.xactlycorp.com or call 1-866-GO-XACTLY (469-2285).