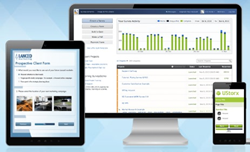 If you can't measure it, you can't IMPROVE it!
Vancouver, British Columbia (PRWEB) February 27, 2014
It is difficult to predict the level of survey participation you will receive; survey response rates vary widely and depend on a variety of factors. With a better understanding of what influences response rates, you may be able to increase your response rates along with developing customer loyalty.
Response rates can be influenced by factors such as brand recognition, incentives, invitation wording, perceived benefit from participating in survey, demographics and how actively respondents are engaged in the improvement process, among other things.
An important participation incentive to survey respondents is that their opinions will be heard and that action will be taken based on their feedback. If respondents believe that participating in a survey will result in real improvements response rates may increase, as will the quality of the feedback. Employing a back end system to the initial survey feedback that brings accountability to various levels of staff and management will ensure that feedback is listened and responded to.
Response rates can soar past 85% (about 43 responses for every 50 invitations sent) when the respondent population is motivated and the survey is well-executed. Response rates can also fall below 2% (about 1 response for every 50 invitations sent) when the respondent population is less-targeted, when contact information is unreliable, or where there is less incentive or little motivation to respond.
To help improve your survey response rate keep here are 5 of the 24 of the key factors. Download the accompanied file to read up on all 24 tips.
1. Provide value, value, value. Online survey response rates increase dramatically when the participant gains value from responding. Identify multiple and relevant value for responding to the survey.
2. Offer multiple methods to complete a survey. Don't limit your survey efforts to any one method. Your customers have different lifestyles, different backgrounds and computer skills. Consider using any combination of the following survey methods: email-surveys with direct links to online surveys, mobile surveys, telephone-customer-satisfaction-surveys/ [telephone based surveys __title__ ] which typically offer the largest response rates in a short time period.
3. Offer multiple access points to complete a survey. There are three access points that you will want your survey to be available to your customers. 1) 'In the moment' in store experience, 2) at the customer's leisure (in transit, waiting in a restaurant or for an appointment, etc.) and 3) at home or work.
4. Embrace change that new technology brings: With over 70% of the world's population owning a mobile phone and the statics are growing, response rates can significantly improve by utilizing mobile surveying.
5. Know your audience. Clearly identify your target audience and take the time to understand how best to solicit information from them. Consider a variety of sources for possible respondents for example, consider posting your survey to newsgroups and social media sites.
For more tips download the PDF file attached.
About the ASK LISTEN RETAIN Program
The ASK LISTEN RETAIN process is a revolutionary product that helps a business to systematically gather, analyze and use information regarding their customer service issues. What makes it more effective than other programs is that the customer satisfaction data that is gathered via professional business to business telephone surveys is captured into a closed loop system. After we ASK your customers the important questions, our program helps management at each level LISTEN to the voice of your customers and deal with concerns discovered during the survey process. Your business can quickly make strategic decisions to RETAIN customers and further improve customer loyalty.
We ASK the important questions, your LISTEN and RETAIN customers for a lifetime by building quality relationships!