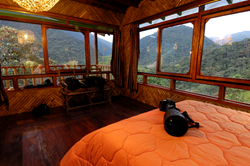 San Jorge Eco-Lodges are the best option for birdwatching, hiking naturalist tours, natural history, hummingbird and photography tours, eco-adventures, cultural and historical tours, student educational programs, and Galapagos Islands Cruise extensions.
Quito, Ecuador (PRWEB) March 15, 2014
Ecuador is world famous for Old Colonial Quito, the first city to be declared world heritage site by UNESCO, The Galapagos Islands, and the Andes Mountains, the world's longest mountain range. This rich biodiverse region contains over 1,600 species of birds, a world record of 132 species of hummingbirds, more than 4,000 species of butterflies & orchids, 65 volcanoes, 50 different eco-systems, and 17 distinctive ethnic Indian groups.
The greatest challenge for anyone visiting Ecuador is how to see and experience as much biodiversity and culture as possible in the time allotted. San Jorge Eco-Lodges and Nature Reserves Packages meet that challenge! Visitors stay in a network of five eco-lodges which are strategically located in five private nature reserves among the nine different climate steps. Accommodations include San Jorge Eco-Lodge in Quito, San Jorge de Tandayapa Hummingbird Sanctuary in the Cloud Forest, San Jorge de Milpe Orchid & Bird Reserve in the Tropical Rainforest, San Jorge de Cosanga-Yanayacu Bird & Wildlife Refuge in the East Andes Slope. Each eco-lodge and reserve is within two hours of Quito and is a paradise with beautifully carved pristine trails, where nature lovers can enjoy everything that Ecuador has to offer and help protect, conserve birds and wildlife in the country.
About San Jorge Eco-Lodges
The Magic Birding & Hiking Circuit of Ecuador is led by Dr. George Cruz and his dedicated team of naturalist guides. Dr. Cruz is Ecuador's most renowned birding and biodiversity expert. He is a former Veterinarian, a licensed Hotel Manager, and has owned and operated the eco-lodges and reserves as a top master birding guide and wildlife conservationist for over 25 years. As an avid birdwatcher since childhood, with a life long passion for conservation, a cultural and wildlife photographer, painter, and writer, Dr. Cruz is extremely knowledgeable on Ecuadorian culture and natural history. He is the only Latin American to pioneer a complete birdwatching circuit in South America! Dr. Cruz has recently written & published two new books, both illustrated with his collection of paints and photography. "The Birds of The Metropolitan District of Quito", a collaboration of the most special birds in Northern Ecuador & The Magic Birding & Hiking Circuit. And, "The Medicinal Plants of the Andes", a field guide of the medicinal plants grown at our private reserves.
Volunteerism and Charitable Giving
The Magic Birding & Hiking Circuit is also known for its focus on charitable contribution. For 10+ years, Dr. Cruz has organized annual medical missions in Ecuador working with doctors and student doctors from USA universities who provide medical services to local citizens in remote villages. He also provides aid and social work to local schools and orphanages in Quito throughout the year, always giving a hand. He teaches locals conservation and sustainable and responsible tourism, trains them, and employs them.
The Magic Birding & Hiking Circuit tours are 7-14 nights, all-inclusive, including airport transfers, baggage handling, comfortable lodging accommodations, delicious Ecuadorian and International cuisine, daily birding & natural history tours, specialized birding guides, private transportation and reserve entrance fees.
For more information or to make a reservation please contact Cheryl Korowotny, Director of International Sales, San Jorge Eco-Lodges & Botanical Reserves, The Magic Birding Circuit, Quito, Ecuador, South America. Email: info(at)eco-lodgesanjorge(dot)com
If you are a journalist or in the media and are interested in learning more our "Media Discovery" program please contact Cheryl Korowotny.
Telephone:+(5939) 82693093 Quito
(877) 565-2596 Toll-Free USA & Canada.
Email: info(at)eco-lodgesanjorge(dot)com
Visit us at: http://www.hosteriasanjorge.com and http://www.eco-lodgesanjorge.com