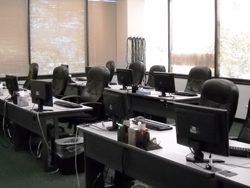 Our approach of small classes and instructors with industry knowledge lead to an outstanding training experience.
Houston, TX (PRWEB) February 26, 2014
Summit Training announces the opening of their new classroom located at 3920 Cypress Creek Parkway, Suite 280, Houston 77068 inside the ETEC, LLC, Information Technology Training Center.
Beginning in March, Summit Training will offer Microsoft Office classes including Microsoft Project and all levels of Excel training. At the end of class, students leave with a printed manual that includes a compact Reference Guide – a problem-solving cheat sheet of instructions and tips. An example of a tip might include explaining how to open a PDF for editing within Microsoft Word and saving it as a Word or PDF file after editing. "Our approach of small classes, hands-on exercises, and instructors with industry knowledge leads to an outstanding training experience," said Lydia Schneider, a senior instructor with Summit Training.
Classes are one or two days in length, starting at 8:30 a.m. and running until 4:00 p.m. and occur on a monthly or bi-monthly basis. Registration is required in advance. A PDF listing the classes being held in the Houston classroom and a copy our registration form is available.
"We have seen a large increase in the need for Microsoft Project training in the last couple of years. Our business has grown as well because of the need to meet this demand," said Linda Pearson, President of Summit Training. "Our petrochemical, construction management, and engineering clients have certainly fueled this growth," she continued.
About Summit Training
Since it was established in 2003, Summit Training has been offering Microsoft classes at client locations and in their Beaumont classroom in Excel, Access, Word, Project, and PowerPoint -- along with Primavera P6 classes in Houston and other locations. In 2011 they expanded their offerings by purchasing Connect Learning, a Houston-based company focused on Adobe Training as well as Authoring e:Learning and Web Development training and consulting.
People interested in more information on classes held in Summit Training's Houston classroom or onsite at a client location, can contact Summit Training at 281.412.5565 or by emailing Linda Pearson. For a complete list of all classes offered by Summit Training, visit their website.