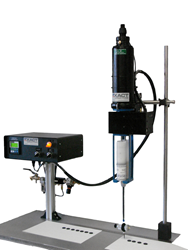 Just the right performance and price for my application.
Newcastle, Maine (PRWEB) February 28, 2014
EXACT Dispensing Systems designs, manufacturers and installs systems for the meter mix dispense of one and two component resins, adhesives and sealants for industry.
The "Digi-Shot" Encoded Cartridge Dispenser provides a great solution for automatic and repeatable controlled shot size in a table top meter mix dispense package replacing timed shot or "eyeball" dispense control packages. Just add your 2K resin cartridges and start dispensing.
The Digi-Shot Encoded Dispense Delivery innovation allows an operator to digitally set the desired shot size from a cartridge system with typical shot size ranges from 1cc to 20cc. The system controls shot size accuracy, eliminates waste and allows the operator to easily get multiple shots per cartridge. The system comes standard with both Bench Top and Hand Held options in one complete package.
Options are available for most 2K cartridge ratios including 1:1, 2:1, 4:1 and 10:1.
This is an economical production system offering the performance typically found on higher priced meter-mix systems. Eliminate the operator control and performance issues typically found with manual or timed shot cartridge systems by introducing the Digi-Shot into your production operation.