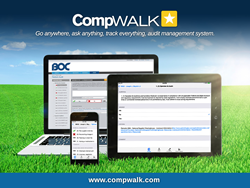 Columbia, Md. (PRWEB) February 27, 2014
NextLOGiK, a Columbia, Md.-based technology company, has launched CompWALK, a mobile-ready, online software platform that allows organizations in all industries to measure compliance with regulations, industry standards and corporate benchmarks.
CompWALK (http://www.compwalk.com) can be used by any type of organization that needs to measure performance against a set of standards – whether regulatory, external or internal by nature. The data is recorded and processed in real time, regardless of platform (web or mobile), eliminating any delay and allowing decision-makers to respond immediately.
"The core product can be adapted, fully configured and administrated by the client to their set of standards. This flexibility is one of the key elements that sets CompWALK apart," said Kirk Couser, chief executive officer for NextLOGiK. Couser said CompWALK can be adapted into a wide array of uses:

Retailers tracking store appearance and displays
Manufacturers tracking assembly line accuracy and safety
Accountants staying current with regulations
Banking industry for the regulatory compliance use
Food/hospitality industry for meeting quality and food standards
Health care centers monitoring performance and compliance
Managers of facilities that must adhere to industry standards
"The applications are limitless, and CompWALK has built-in features that make it a unique entry in the marketplace. This will be an enormous upgrade for compliance managers – many of whom are currently using a clip board and legal pad to conduct inspections as well as those using a standalone piece of software. We are much more than an app. We are a platform that puts the flexibility in our customer's hands at a much lower cost," Couser said.
The Board of Certification/Accreditation (BOC), a CompWALK customer, is a Maryland not-for-profit organization that provides and administers certification and accreditation credentials for practitioners and suppliers of comprehensive orthotic and prosthetic (O&P) care and durable medical equipment (DME) services.
"Prior to our engagement with CompWALK, our surveyors were required to carry multiple devices with them to perform on-site inspections. In addition to the equipment load, their survey reports took hours of staff time to review and evaluate," said Jeff Price, MCP, director of operations at BOC.
"With CompWALK, our surveyors only need one device, and our staff has the results almost immediately after the inspection is completed. What once required multiple systems and countless hours to produce a single survey report is now done within a single intuitive system and all within the timeframe of a single inspection. CompWALK enables BOC to provide faster and friendlier customer service, while creating operational efficiencies at a fraction of the cost."
About NextLOGiK
NextLOGiK (http://www.nextlogik.com) delivers comprehensive technology services ranging from custom website design, mobile application development, user experience design to creation and delivery of complex enterprise web applications and managed network services.
NextLOGiK Inc. is a wholly owned subsidiary of COLA Inc. (http://www.cola.org), an ISO 9001: 2008 certified international provider of technology-based compliance and accreditation solutions since 1988. With decades of industry experience in managing evaluation and compliance processes and protocols, COLA seeks to deliver programs, software and services that promote excellence and efficiently optimize quality processes. In 2013, COLA's IT and support professionals transitioned from COLA to form NextLOGiK.