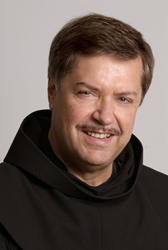 Fr. Peter will have visited more than 19 cities in 11 states from coast-to-coast in just 6 weeks
Washington, D.C. (PRWEB) February 27, 2014
For the last 20 years,Fr. Peter Vasko, OFM, travels home to the United States in hopes of raising money and awareness for the marginalized Christians in the Holy Land.
A native New Yorker, Fr. Peter entered the religious life with the Franciscan Custody of the Holy Land in 1981 and was ordained a priest in 1987.
Having spent 27 years in Jerusalem, 20 as President of the Franciscan Foundation for the Holy Land, Fr. Peter is acutely aware of the struggles that the face Christians in the Holy Land every day.
"Our mission is bigger than helping individuals and families. Don't get me wrong. We do a lot of that. But, even more important is to safeguard the Christian heritage in this land where Jesus chose to be born, live and die. I consider it an honor to help these guardians of Christianity," he says.
Fr. Peter is starting off his U.S. visits in the Boca Raton area of Florida before traveling to New York to raise more awareness for the work of the Franciscan Foundation for the Holy Land.
His six-week-long trip will also include benefit dinners in Lincoln, Nebraska and Indianapolis, Indiana. Oliver North will be a keynote speaker for a benefit dinner in Dallas later this year.
Others stops will include Washington, D.C., Texas, Louisiana, Ohio, New Mexico, California, and New Jersey. "For twenty years I've been doing this," he said. "People don't realize how much the Christians in the Holy Land need our help. It's my job to raise that awareness no matter where I have to travel."
Fr. Peter is a compelling spokesman and public speaker. Years of experience, coupled with his passion for the Christians in the Holy Land, produces a dynamic, first-hand perspective of the discrimination Christian Arabs face in the Holy Land.
Apart from presentations, benefit dinners and scheduled donor meetings, Fr. Peter will be conducting a meeting of the Board of Trustees in Columbus, Ohio on April 5. FFHL currently has 19 Trustees from across the U.S. who serve on various committees including notables such as EWTN's Raymond Arroyo, Cardinal Theodore McCarrick and Cardinal Timothy Dolan.
When all is finished, Fr. Peter will have visited more than 19 cities from coast-to-coast. His journey will conclude in New York from where he will depart for the Holy Land on April 19.
As Fr. Peter makes preparations to leave the Holy Land for his first trip to the U.S. in 2014, he says, "Twenty years of safeguarding Christian families in the Holy Land has produced a lot of good fruit but our work is never over." He continued, "There are plenty more university scholarships to be funded, children to be sponsored, elderly to be cared for- like Pope Francis says, we can't just say we're Christian without living it. We must give a sense of hope to our fellow Christians. We must give them the means to stay."
Fr. Peter will be available to conduct interviews in-person or by phone. For further information or to schedule an interview, please contact Chris Weldon at cweldon(at)ffhl(dot)org or visit our pressroom at http://www.ffhl.org/pressroom.aspx.