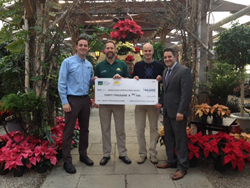 "As the Sun Club continues to expand, we look forward to working with more non-profits this year than ever before, bringing our first major group of solar donations to Pennsylvania." - Tony Napolillo, Sun Club Program Manager
Philadelphia, PA (PRWEB) February 28, 2014
The Green Mountain Energy™ Sun Club™ announced today that four Pennsylvania non-profits will receive a combined $96,500 in solar energy installations this year. In addition to helping lower their electricity bills, these donations include educational information on how solar works to help promote solar energy in the communities they serve. The Sun Club is a unique program enabling Green Mountain Energy Company and its employees and customers to contribute funds to socially responsible non-profits for renewable energy installations.
This announcement took place at the PHS Philadelphia Flower Show, the largest flower show in the nation. PHS Meadowbrook Farms is one of this year's Sun Club recipients and revealed the $40,000 donation at the event.
"As passionate gardeners, PHS members and staff have always appreciated the power of the sun and now, thanks to the Sun Club, the solar installation coming to PHS Meadowbrook Farm will allow us to take its benefits further," said Drew Becher, president, PHS. "Announcing this news at the Flower Show is a perfect way to celebrate with all of our supporters and continue educating on the importance of sustainability."
2014 Pennsylvania Non-Profit Sun Club Recipients Announced
Sun Club donation recipients are selected based on their needs, mission and passion for educating the community on the importance of renewable energy. Donation amounts and timing of each solar construction project vary based on the needs of the organization and type of solar installation selected.
Out of the 100 non-profits that applied, the following Pennsylvania organizations were selected for solar donations in 2014:

Green Woods Charter School (Philadelphia) $30,000 – greenswoodscharter.org – for a solar array to be incorporated into environmental education classes
Pennsylvania Horticultural Society (Philadelphia) $40,000 – phsonline.org – for a solar array to be installed at Meadowbrook Farm's greenhouses
Spring Mill Fire Company (Plymouth) $25,000 – springmillfire.com – for a solar array to help power the all-volunteer fire station
Venture Outdoors (Pittsburgh) $1,500 – ventureoutdoors.org – for solar generators to help power outdoor activities
Here Comes the Sun: About the Sun Club
The Sun Club program has donated more than $2.5 million to more than 55 solar projects since 2002. These solar donations benefit the non-profits for years after the initial installation as they continually help reduce electricity costs, enabling these organizations to better serve their community. By harnessing the power of the sun, the donation recipients have access to an abundant, pollution-free source of electricity: more energy from the sun falls on the earth in one hour than is used by everyone in the world in one year.
"As the Sun Club continues to expand, we look forward to working with more non-profits this year than ever before, bringing our first major group of solar donations to Pennsylvania and working with a unique set of organizations who are excited to begin promoting solar power with their community," said Tony Napolillo, Sun Club Program Manager. "The expansion of this program is a testament to the long-lasting commitment our customers, employees and company have made to renewable energy, and we look forward to an even brighter future."
Follow updates on the installations and submit 2015 donation applications at gmsunclub.com.
Photos of the announcement event and these organizations receiving their "big check" donations can be found on Green Mountain Energy's Flickr stream: http://www.flickr.com/photos/greenmtnenergy/
Green Mountain Energy™ Sun Club™
Green Mountain Energy™ Sun Club™ is a program empowering Green Mountain Energy Company, its employees, residential customers, and supporters to donate solar power to sustainably minded non-profit organizations. Since the program's founding in 2002, the Sun Club has donated more than $2.5 million to help install over 600 kilowatts of solar power to more than 55 unique projects.
For more information, or to contribute to the Sun Club, visit http://www.gmsunclub.com.
Green Mountain Energy Company
Green Mountain is the nation's longest serving renewable energy retailer and believes in using wind, sun and water for good. The company was founded in 1997 with the mission to "change the way power is made." Green Mountain offers consumers and businesses the choice of cleaner electricity products from renewable sources, as well as a variety of carbon offset products and sustainable solutions for businesses. One of Green Mountain's largest customers is the "world's most famous office building," the Empire State Building in New York City. Green Mountain customers have collectively helped avoid more than 24.5 billion pounds of carbon dioxide emissions.
Visit us online at http://www.GreenMountain.com
Follow us at facebook.com/greenmountainenergycompany or twitter.com/greenmtnenergy
###