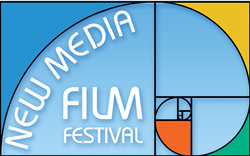 Worth The Entry Fee. - Movie Maker Magazine
Hollywood CA (PRWEB) February 25, 2014
Early selections of New Media Films from from Israel, France, Australia, Italy, Japan, the Netherlands, and the United States have been accepted into the 5th ANNUAL NEW MEDIA FILM FESTIVAL in Los Angeles CA June 10 & 11th 2014.
A Must Attend Event. For 5 years, The New Media Film Festival has led the way in the pursuit of stories worth telling, the exploration of new media technologies, boundary pushing resulting in new distribution models and creating and establishing new methodologies in the global monetization of content.
Moving forward with this legacy in mind, the New Media Film Festival is proud to announce that the following 8 groundbreaking New Media Projects have been chosen to screen at the New Media Film Festival on June 10th & 11th 2014 at the state of the art Landmark Theatre (10850 W. Pico Blvd. LA CA 90064).
Each entry is considered for Screening, Competition ($45,000 in Awards) and Distribution Opportunities in 20 Categories. Early Selections incluce 3D, Animation, LGBT, New Media Scripts, Shorts, Student & Art on Wall Categories.
3D
EVE Dir. Eric Gandois
France 6:25
A 3D movie set in a futuristic & poetic universe without any dialog. The last moments of humanity on earth before nature resumes his duties. Shot on Arriflex Alexa.
ANIMATION
THE ROSE OF TURAIDA Dir. Ryan Grobin
Australia 6:15
Based on a true story set in 17th century Latvia, The Rose of Turaida tells of the tragedy of a beautiful young woman who makes the ultimate sacrifice for love and honour.
REFLECTIONS Dir. Alon Ziv
Israel 5:19
Barnie, a grown man, plays around with his childish reflection in an urban landscape. The fun comes to an end when other adults change him & turn him into one of them.
AUNTIE CLAUS Dir. Jon Peters
Animation test by Athena Studios based on the award-winning children's book 'Auntie Claus', by Elise Primavera, about a young girl who discovers that her mysterious and flamboyant Aunt is Santa Claus' sister. Shot on Canon 60D.
LGBT
CIAO DE ROMA Dir. Dianna Miranda
Italy 5:12
A middle aged man struggles with his identity at work & at home. He is confronted with the difficulties of coming out to his peers & family with the love of his life. Shot on 5D.
CRUISE PATROL Dir. Bobby de Groot
Netherlands 7:25 US PREMIERE
On a long and dusty road a routine cruise patrol takes a strange turn and spirals totally out of control. Shot on Autodesk Maya and Eyeon Fusion.
NEW MEDIA SCRIPTS
AURORA by Amber Karlins
USA
When a young survivor of the Armenian genocide comes to the United States in search of her brother, she is taken in by an American screenwriter and his wife. This extraordinary true story follows the exploitation she faces as they transform this traumatized, sixteen-year-old girl into a best-selling author and, ultimately, a reluctant silent film star.
CIVIL WRONGS by Carl Hansen
USA
½ Hour Comedy about a little known government agency that investigates and prosecutes "stupid laws" that are on every states law books
SHORTS
SILICON;BOOTDRIVE Dir. Takeshi Asai
Japan 9:30 US PREMIER
In 2015 a meteor collided with Earth and altered the human race. Only one man left can save humanity.
STUDENT
KUDURO CULTURA Dir. Stephanie Oppenheim
USA 30:00
Students from Brooklyn, Queens and Luanda push past geographical boundaries to explore the new music and dance genre coming from Angola, Africa; Kuduro. This 30- minute documentary chronicles the cross-cultural exchange between two NYC public high schools and a high school in Luanda, Angola. Together they share music, dance, laughter and in the process, learn all about each other's cultures.
ART ON WALL (a curated program from all category submissions.)
HAPPY MEMORIES Dir. Jack Fields USA
These early selected New Media Films represent work from several cutting-edge new content pioneers who are paving the way for the future of New Media. These exceptional projects are a diverse and eclectic mix, hailing from 7 nations: Israel, France, Australia, Italy, Japan, the Netherlands, and the United States.
The New Media Film Festival is still accepting submissions, the deadline for which is May 1st 2014 by midnight. The categories are: Animation, Digital Comics, Documentary, Feature, LGBT, Machinima, Mobile/Tablet, Music Video, New Media, New Media Scripts, Pilot, Shorts, Shot on RED, Sniplers, SRC- Socially Responsible Content, STEAM-Science, Technology, Engineering, Art, Math, Student, Trailers, Web Series. Each submission will be considered for Screening, Distribution Opportunities & Competition with over $45,000 in awards given out annually.To reserve badges or submit your new media project http://www.NewMediaFilmFestival.com.
Founder/Director Susan Johnston.