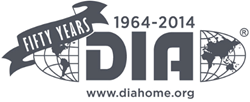 Horsham, PA (PRWEB) February 25, 2014
The Food and Drug Administration (FDA) and European Medicines Agency (EMA) will discuss common objectives and challenges in pharmacovigilance and clinical safety at DIA's Annual Meeting from June 15 to 19 in San Diego.
The June 17 session, "FDA-EMA Collaboration in Pharmacovigilance: Common Objectives and Common Challenges," will focus on joint efforts in drug-specific evaluation, drug development, effective implementation of new pharmacovigilance (medicine safety) tools and addressing common challenges. The session, to be chaired by Peter Richard Arlett, head of pharmacovigilance at EMA, is one of 35 educational sessions at the Annual Meeting focusing on pharmacovigilance and clinical safety.
"Ensuring the safety of medical innovations is a top priority for professionals involved in medical product development," said DIA Global Chief Executive Barbara Lopez Kunz. "We are bringing the premier voices in industry and regulatory agencies to work closely on this issue in addition to encouraging a stronger patient voice in our education."
The two agencies jointly announced on Feb. 21 the creation of a new "cluster" for a more systematic and focused exchange of information on the safety of medicines. Clusters are regular meetings among the FDA, EMA and other world drug regulatory agencies on specific topics identified as requiring intensified sharing of information and collaboration. The FDA and EMA have clusters on biosimilars, medicines to treat cancer, orphan medicines, medicines for children and more already in place.
Other DIA Annual Meeting educational offerings on pharmacovigilance and clinical safety will include an overview of the potential contribution of social media for postmarketing drug safety surveillance, new trends in pharmacovigilance, ways to empower the public in pharmacovigilance and the current landscape for risk management in Asia, Europe and the U.S.
The DIA 2014 50th Annual Meeting, Celebrate the Past – Invent the Future is the largest multidisciplinary event that brings together a community of life sciences professionals at all levels and across all disciplines involved in the discovery, development and life cycle management of medical products. The meeting aims to foster innovation that will lead to the development of safe and effective medical products and therapies for patients.
ABOUT DIA: DIA is a neutral, global, professional, and member-driven association of nearly 18,000 professionals involved in the discovery, development and life cycle management of pharmaceuticals, biotechnology, medical devices and related health care products. Through our international educational offerings and myriad networking opportunities, DIA provides a global forum for knowledge exchange that fosters the innovation of products, technologies, and services to improve health and well-being worldwide. DIA's Global Center is in Washington, D.C., USA, with offices in Basel, Switzerland; Beijing, China; Horsham, Pa., USA; Mumbai, India; and Tokyo, Japan. Visit our website at http://www.diahome.org for more information.