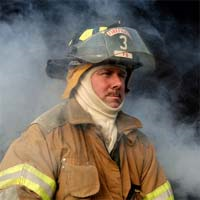 ...asbestos and shift work involving disruption of circadian rhythms may partly explain these results.
Raleigh, NC (PRWEB) March 04, 2014
New research conducted by a team of Finnish scientists and reported by Surviving Mesothelioma confirms what many smaller studies have suggested – that firefighters face an increased risk of mesothelioma and other cancers from on-the-job exposure to asbestos.
Before its association with mesothelioma was discovered, asbestos had been used for decades in building materials around the world. Now, even in Scandinavia (Denmark, Finland, Iceland, Norway, and Sweden) where asbestos has been banned for many years, firefighters can encounter asbestos dust in the debris from burning or demolished buildings and contract mesothelioma decades later.
The new study was drawn from census data and cancer registries in Scandinavian countries and spans more than four decades from 1961 to 2005. Among the total of 16,422 male firefighters included in the analysis, the researchers found a "moderate excess risk" for all cancers, including mesothelioma. Firefighters in the 30- to 49-year-old category had a "statistically significant" excess of prostate cancer and skin melanoma. These higher rates did not show up in the older age groups.
In contrast, firefighters over 70 had higher rates for non-melanoma skin cancer, multiple myeloma, lung cancer and mesothelioma. The standard incidence ratio (SIR) in mesothelioma was 2.59, meaning the number of excess cases was more than 150% above the norm for this cancer. Mesothelioma is typically a very rare cancer. When it is diagnosed, it is usually in older age groups because it can take many years to develop.
In their explanation of the data, the authors point to several factors that may have raised the firefighters' risk of mesothelioma and other cancers. In addition to asbestos exposure, they say susceptibility to cancers like mesothelioma may also be influenced by irregular work schedules. Writing on their findings in Occupational and Environmental Medicine, the authors observe, "Some of these associations have been observed previously and potential exposure to polycyclic aromatic hydrocarbons, asbestos and shift work involving disruption of circadian rhythms may partly explain these results."
Last year, a major U.S. study of 30,000 firefighters who started their careers after 1950, found higher rates of 15 diseases, including mesothelioma. The original Scandinavian firefighter study was published in Occupational and Environmental Medicine. (Pukkala, E, "Cancer incidence among firefighters: 45 years of follow-up in five Nordic countries", February 2014, Occupational and Environmental Medicine, Epub ahead of print, http://www.ncbi.nlm.nih.gov/pubmed/24510539)
For nearly ten years, Surviving Mesothelioma has brought readers the most important and ground-breaking news on the causes, diagnosis and treatment of mesothelioma. All Surviving Mesothelioma news is gathered and reported directly from the peer-reviewed medical literature. Written for patients and their loved ones, Surviving Mesothelioma news helps families make more informed decisions.