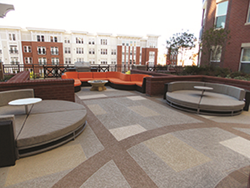 Chantilly, Virginia (PRWEB) February 27, 2014
The American Society of Concrete Contractors has announced the big winners of their 6th annual Decorative Concrete Awards. Taking home first place in the concrete overlays under ¼" thickness at over 5000sqft category is Sundek of Washington, based in Chantilly, Virginia. The contractor won for their impressive decorative concrete patio and pool deck installation at the Dunn Loring Metro apartment complex in Dunn Loring, VA.
The project was completed using 7500 square feet of Sundek Classic Texture in Pewter Gray, Mission Tan and Clear, creating a modern, geometrical design that beautifully complemented the surroundings of the Dunn Loring Metro luxury apartments.
The Sundek Classic Texture overlay produces a classic, refined finish that is slip-resistant and stays cool to the touch, an ideal combination of features for pool decks, patios and a variety of other outdoor applications. Sundek of Washington's team of skilled concrete artisans designed and applied a neutral color palette and moderate texturing to the area, earning them this coveted first place award.