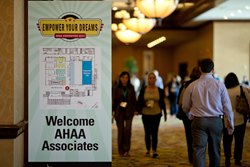 Turning dreams into reality is no small feat. Our Convention focused on doing just that — empowering dreams!
Dallas, TX (PRWEB) February 26, 2014
This year's Convention was held in Dallas, February 19-22. More than 300 Associates focused on how to thrive — not just survive — in today's more competitive environment. Keynote speaker and renowned author, Sally Hogshead, helped Associates learn how they could create and maintain moments of intense interest in order to overcome the 9-second attention span of the average consumer.

Elizabeth Kennedy, Ph.D., CCC-A, FAAA, was given the President's Award, which honors an Associate who exemplifies the key attributes that help create a successful practice — a commitment to training, process improvement, use of solutions, and, most importantly, leadership. Kennedy is the owner of Associates in Hearing HealthCare in New Jersey.
Paul Esposito, Au.D., and Rita Lorentz, Au.D., were presented with the Growth Award, which honors an audiology practice that had a significant amount of growth year-over-year. Esposito and Lorentz are the owners of Smithtown/Sayville Hearing Services in New York.
Mary Thorpe, Au.D., was presented with the Leadership Award, which honors an Associate who succeeded in improving his/her performance and leadership skills in order to move his/her practice forward. Thorpe is the owner of HearCare Audiology Center in Florida.
Larry Solow, Ph.D., was given the All The Right Things Award, which honors an Associate who demonstrates a commitment to implementing "All The Right Things," AHAA's solution for helping audiologists grow their practices. Solow is the owner of Valley Hearing Center in California.
Lori Ann Halvorson, Au.D., FAAA, was given the Organizational Development Award, which honors an Associate who demonstrated a commitment to training. Halvorson is the owner of Lake Forest Hearing Professionals in Illinois.
In addition to the awards presentation Associates were able to meet with vendor partners, connect with old friends, meet new colleagues, and obtain all the key ingredients they need to empower their dreams!
To learn more about all of the award winners and AHAA's 19th annual Convention, please visit http://www.ahaaconvention.com.
About American Hearing Aid Associates
American Hearing Aid Associates (AHAA) represents the nation's highest quality and most accessible hearing health care network, comprised of professional audiologists, hearing aid dispensers, otolaryngologists, hospitals, and universities across the country. AHAA aims to raise the quality of hearing health care throughout America by continual evaluation and upgrading of the educational standards and technical expertise of our hearing Associates. Learn more at http://www.ahaanet.com.