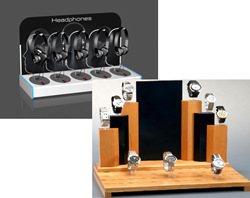 Over the past decade, MSS has become expert at researching what motivates the person at the point of purchase to recommend one brand over any other to a consumer
Scottsdale, AZ (PRWEB) February 26, 2014
MSS, providers of strategic solutions to leveraging influence at the point of purchase announces the upcoming launch of two Influencer studies in 2014 – Premium Headphones and Wristwatches.
Premium headphones is a billion dollar segment that has been likened to that of the sneaker two decades ago, progressing from a utilitarian commodity or necessity to an item of individuality and status, such as the Nike Air Jordan. "The headphone category has evolved from being a listening purchase afterthought into a key component of the listening experience. It's grown from a bundled functional item into a more personal decision for the consumer – driven by style, utility, sound quality, and of course price, brand image and availability," says Kevin Moran, President of MSS.
The major brands in the premium headphones market have positioned themselves to be the leaders in one of the following segments within the industry: style, active, audiophile, consumer electronic or gaming. And while companies may be focused on one segment, most maintain multiple product lines to appeal to the different styles of use a consumer will seek.
The MSS Premium Headphone study provides manufacturers the answers to which brands are recommended for purchase most often as well as why those selling headphones recommend one brand over another. The study is launching in February with reporting available in mid to late summer.
Headphones aren't the only personal purchase that has transformed over the years, so too have wristwatches. For more than a century, watches have been an indispensable part of American life; they have helped the masses report to work on time and have performed as icons of status and style. "When a wristwatch is worn by an individual, it is a fashion statement," says Moran. "Different types of watches, be it sport or Rolex, say something about the person wearing the watch. This makes it critical for watch brands to know the perceptions those selling watches have about their brands."
The soon to be launched Wristwatch Influencer Study will provide those answers and more. What brands are being recommended? Why? How the are brands perceived by those selling them and more. The study is launching in July with reporting available in late 2014.
MSS offers affordable, multi-sponsored, 'near custom' market research to help marketers develop tools to optimize their brand's direct to the trade marketing and sales programming to drive brand recommendations at the point of purchase. "Over the past decade, MSS has become expert at researching what motivates the person at the point of purchase to recommend one brand over any other to a consumer. We have enjoyed great success in determining the drivers of recommendation in nearly 20 categories," says Kevin Moran. "His critical role in driving sales to consumers at the point of purchase cannot be ignored."
MSS' staff is composed of highly trained, research professionals with a vast array of expertise on a global basis. MSS performs at the very highest standards of research protocol and provides a wealth of actionable information about Influencers in 19 categories from beverages to passenger car lubricants in over 30 countries, at a cost-effective price. For more information, about MSS studies visit us at http://www.mssmulti.com or call 480-595-4754 ext. 1227.
Contact: Scott Snow
Phone: (480) 595-4754
Email: ssnow(at)mssmulti(dot)com