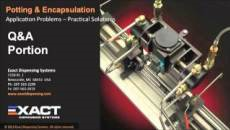 The time I invested in watching this webinar was well worth it.
Newcastle, ME (PRWEB) February 28, 2014
EXACT Dispensing Systems is a world leader in the development and manufacture of equipment solutions for potting and encapsulation applications in industry. As part of its efforts to remain a leader in the industry EXACT Dispensing has developed a new Webinar titled "Potting and Encapsulation - Application Problems - Practical Solutions" . This webinar is a great way to learn about some of the most common application problems you may be having in your potting or encapsulation production processes. By looking at the problems you may be having in a basic fundamental way the solution is many times easy to determine.
Exact Dispensing finds that most potting related production problems are relatively simple to resolve when the root cause possibilities are understood. The presence of air bubbles in the potting resin as an example is one of the primary areas of failure in a potting system. This webinar gives you most of the information you may need to correct this critical problem.
EXACT Dispensing Systems recommends using this webinar to train new engineers or operators in potting and encapsulation processes and how to troubleshoot and resolve common problems. This seminar is product neutral focused on education and training.
After watching the webinar it is recommended that you call EXACT to discuss the application problem with an experienced application engineer. Most of the time the problems are simple requiring simple solutions.