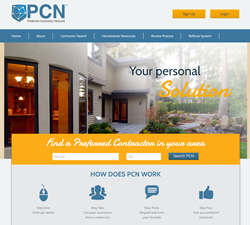 "Rackspace makes the PCN site faster and much more reliable, meaning homeowners don't have to wait for a webpage to load or worry about losing information."-Jerod Raisch, CEO and founder of Preferred Contractor Network
Denver, CO (PRWEB) March 04, 2014
Preferred Contractor Network, the Denver-based company that connects homeowners with pre-qualified contractors, announced today that it has selected Rackspace, the leader in hybrid cloud hosting, to manage its web applications. This cloud-based service will make homeowners' use of the PCN website easier than ever.
"With the use of incomparable technological services, PCN has found a way for homeowners to connect with quality contractors effortlessly," says Jerod Raisch, CEO and founder of Preferred Contractor Network. "Rackspace makes the PCN site faster and much more reliable, meaning homeowners don't have to wait for a webpage to load or worry about losing information."
Rackspace will better allow PCN to deliver critical information to its members in a timely manner. Another key benefit of Rackspace is its ability to adapt to a rapidly increasing customer base.
"As the number of contractors in the PCN network continues to rise, we need our hosting site to grow along with it," says Matt Hannan, Director of Software Development at Preferred Contractor Network. "By choosing Rackspace, we will be able to keep up with this rapid growth."
Contractors will also benefit from PCN's selection of Rackspace, as they'll be able to collect homeowner information and respond to quote requests more quickly and easily.
The Preferred Contractor Network may be ahead of the curve now for selecting Rackspace, but this trend-setting company has no intentions of stopping when it comes to adopting advanced technology.
"Our next steps include a mobile app," says Raisch. "The app will make contractor reviews easier to complete, meaning we'll help our contractors get better feedback in a more timely manner."
As homeowners continue to have easy-to-use resources available for finding quality contractors, the Preferred Contractor Network will continue to expand its homeowner-contractor connection base.
About Preferred Contractor Network
Preferred Contractor Network connects homeowners with pre-selected local contractors. This Denver-based network protects homeowners in their contractor search by only listing the top ten contractors per service category who possess outstanding craftsmanship, high customer ratings, and a proven commitment to PCN's customer service standards.
###