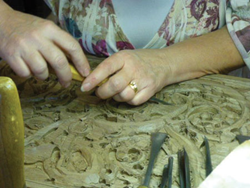 "Many people don't have the chance to interact with them [local artists]. Our free in-store events offer that opportunity."
Hagerstown, MD (PRWEB) February 25, 2014
At The Fine Arts Company, art is a way of life. This month, The Fine Arts Company, located at 18031 Garland Groh Boulevard in Hagerstown, Maryland is pleased to announce several fine art events for the community to enjoy. Patrons can look forward to enjoying free artist demonstrations and a tea tasting in the month of March. Can't wait for more information? Visit online at TheFineArtsCompany.com for the full event calendar, or read on.
Beginning on Friday evening, March 14 from 6-8pm, meet local artist Cindy Downs. Cindy is active in the community and enjoys plein air painting, where the work of art is created on-site. Some of her favorite subjects are local natural and historical sites. All are welcome to stop by the store to meet Cindy and see a special exhibit of her work. On Saturday, March 22 from 12-3pm, The Fine Arts Company will be welcoming back Hagerstown-area woodcarver Kathleen Weibel for a wood carving demonstration. Both events will be held in the store and are free to attend.
For tea lovers, be sure to visit the store on Tuesday, March 18 from 4-6pm for Tuesday Tea Time. At no charge, visitors will taste a variety of teas hand blended in America and learn about their favorites from tea expert Judy Larkin of Larkin Tea Company.
"Although we are lucky enough to be in a location with a lot of great artists and handcrafters," says Katie Rock, Event Planner at The Fine Arts Company, "many people don't have the chance to interact with them. Our free in-store events offer that opportunity."
Visit online at TheFineArtsCompany.com for an event calendar including these and more special events and the chance to register for upcoming Painting Parties. Locally, visit in person at 18031 Garland Groh Boulevard for the best in handmade in America fine art, jewelry and décor. While in store, sign up to be a VIP for access to special promotions, sales and events (including one coming up on March 25) and be sure to take advantage of upcoming workshops and demonstrations.
About The Fine Arts Company:
The Fine Arts Company offers a variety of top-quality handmade items from American artists and designers, including jewelry, fine art, artisan foods, glassware and pottery. The Fine Arts Company offers consumers the chance to own and treasure unique one-of-a-kind pieces of modern American culture. Visit TheFineArtsCompany.com, follow on Facebook, or visit the newly opened location in Hagerstown, Maryland and see the newest and best in handmade American art.