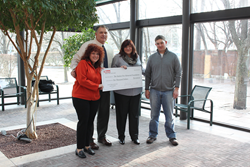 Gilbane's annual charity golf classic brings the building industry together to raise funds for local organizations in need.
Providence, RI (PRWEB) February 26, 2014
Plans are underway for Gilbane's 7th Annual Charity Golf Classic to be held on May 19, 2014 at the Wannamoisett Country Club in Rumford, Rhode Island. The event brings together construction trades, industry partners, business community members, and Gilbane employees all golfing their way toward a common goal to support local non-profit organizations in the Rhode Island community. In addition to the charity focus of the event, excellence in safety awards are presented to subcontractors who meet strict criteria while working with Gilbane on area construction projects.
Proceeds from the last year's sold-out event were distributed to 28 organizations throughout Rhode Island. "Thank you to all of our sponsors along with our partners, subcontractors, trades members and other participants who helped us raise over $63,000 through this fun event and enabled us to give back to the communities we call home," said John Sinnott, vice president of Gilbane's Rhode Island business unit. The top three benefactors included Rebuilding Together, Hasbro Children's Hospital, and the Station Fire Memorial Foundation. Representatives from each accepted the donations on behalf of their organizations.
Companies who sign up for a Bundled Sponsorship by April 4, 2014 will be eligible for a chance to win a foursome in the 2015 Gilbane Charity Golf Classic valued at $2,500. Those interested in reserving a foursome and/or learning about sponsorship opportunities may contact Susan Dias, executive assistant at Gilbane, by calling 401-456-5447.
About Gilbane Building Company
Gilbane provides a full slate of construction and facilities-related services – from pre-construction planning and integrated consulting capabilities to comprehensive construction management, close-out and facility management services – for clients across various markets. Marking its 141st year in operation and still a privately held, family-run company, Gilbane has more than 50 office locations around the world with its headquarters based in Providence. Representative clients in Rhode Island include Bank of America, Brown University, Citizens Bank, CVS, Fidelity Investments, GTech, Narragansett Bay Commission, Rhode Island Airport Corporation, and the University of Rhode Island.